In a three-part series on the smart city project, Kashmir Newsline had warned of a potential disaster.
Jaspreet Kaur
After last night's heavy rainfall, which is nothing unusual in the month of July, the social media is inundated with photos of flooded shops of Polo View Road, Srinagar. Was this unexpected? Absolutely not, considering the design and layout of the now pedestrianized stretch, which was manicured as a smart city project and more as a showpiece for the G-20 summit. During the summit, with stringent rules and heavy security, the road bore a rather forlorn look.
More than boosting shopping, the upgraded area had become a selfie hangout. While most shopkeepers had a fairly good tourist footfall, many complained of 50% fall in sales due to locals not shopping there anymore, since there is no parking space nearby or hasn't yet been completed.
The issue of waterlogging on this stretch is not new. It happens whenever River Jhelum rises. However, the purpose of the smart city projects is to find smart solutions to these problems rather than just beautification, that too at a humongous cost and effort.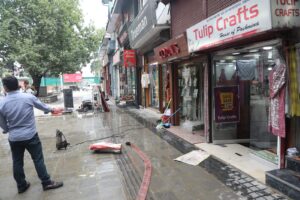 The previously macadamized road was completely dug up and re-laid with concrete, and finished with pavers and cobble stones. The entire exercise of laying concrete was futile, as I had pointed out in my earlier article Unplanned Development and Disregard to Ecology and Heritage Puts a Question Mark over Srinagar Smart City Mission, the third part of a trilogy on Srinagar city.
Knowing the planning of our cities and the incessant digging up of streets to lay new services or to fix the old ones, it is a ridiculous idea to concrete them. Not just Polo View Road, but the Bund, around Dal Lake, Shalimar canal, Lal Chowk and other stretches are being concretized. Even in smaller towns, I have seen small streams and rivulets being lined with concrete.
The use of pavers is meant to facilitate services as also allow ground water to seep in. Pavers are durable, affordable, and easy to maintain. Also, the fact that some shop plinths were already low, the new layout ought to have addressed this issue and not reduced levels further. With so much concrete laid on this stretch, it is a tough ask to mend this.
The administration is still denying drainage issues. The fact of the matter is that if the water does not find its way out, either through surface run-off or underground drainage channels, then it is a drainage issue.
Cities are made up of its streets and for the cities to function well, the streets must function well. With climate crisis building up, entire North India and many regions around the world have been flooded. These events may be more regular than recurring events. It becomes imperative to design city infrastructure to handle such onslaught. When such events occur, we see so many images shared of old structures and roads surviving natural disasters while the new ones crumble.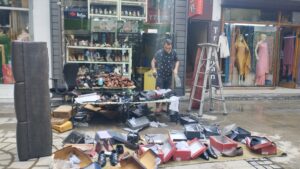 The first roads in Europe were built about 3500 years ago. As far back then, engineers designed the road structures to consider the importance of drainage. They paid attention to cross-section (to help water to flow to the side channels or ditches), grade line (the road surface should be above of the groundwater table and the surrounding ground) and lateral ditches (to help water flow away from the road structure and prevent water table rise). Elsewhere too, roads in old cities followed the natural topography and flow. We perhaps have the best street layout examples from Mohenjo-daro and Harappa.
Currently, however, the proper maintenance of road drainage structures is being ignored in many countries, as budgets for building and, more importantly, maintenance of infrastructure are shrinking. There is a dire need for the engineers and planners, along with the many experts in various departments – who unfortunately are rarely consulted – to work out holistic designs, that not just aesthetically appealing for selfie hashtags, but also function well – even under adverse conditions.
Jaspreet Kaur is a Delhi-based architect, urban designer, Trustee Lymewoods & Span Foundation and Consulting editor of Kashmir Newsline.
(Follow @KashmirNewsline on Twitter.)