From a callous chopping of chinar trees to not engaging with various stakeholders and local communities, the smart city paradigms are being brazenly violated.
Jaspreet Kaur
Under the Smart Cities Mission (SCM), 'beautification' and redevelopment works are being carried out in Srinagar, since the last few months, in Lal Chowk and a few areas around it – The Bund Road, Polo View Market and Residency Road. This entire stretch, and the northern Foreshore Road, bear the look of a construction site, hampering traffic and adversely impacting the shopkeepers. The projects include upgradation and redevelopment of Nishat-Sathu and Nishat Bagh precinct, lake front development along northern Foreshore Road of Dal Lake from Nishat, and redevelopment and beautification of Shalimar Canal.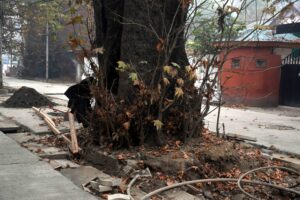 (Concrete around chinar trees is exposing and damaging the roots. Pic: Shah Jehangir)
It began towards the end of 2016 with the cutting down of the chinar tree on the Bund Road, followed by JCB tearing down the Polo View Road. This, overnight rushed activity severely damaged the roots of the six chinar trees on the road median. After the alarm raised by the public, including local shopkeepers, the work was stopped and damaged roots hastily buried. Several chinars were chopped near the TRC earlier.
Such callous chopping of chinars has been happening in several government projects involving road widening and other works being carried out in Srinagar.
"Even worse is that many veteran Chinar trees are being lost rapidly at sites such as Nishat Bagh and Shalimar Bagh. This while these garden sites are going through a project to achieve UNESCO World Heritage Listing, and already were included on the UNESCO Tentative List," writes Jan Haenraets, Director of Atelier Anonymous Landscapes Inc., Vancouver, BC, Canada; and an Adviser to the Indian National Trust for Art and Cultural Heritage, Jammu & Kashmir Chapter.
In Kashmir, chinar (bouine) isn't just a majestic tree. Besides being a universe of shade and a beauty to the landscape over the centuries, it has found its place in spaces of faith, irrespective of religion. It is believed that the oldest chinar tree of Asia stands in Chattergam, Chadoora in the Budgam district of Kashmir. This tree is considered as the largest Chinar tree in the world. Based on local legend, it is said that the tree was planted in 1374 by saint Syed-Abul Qasim Shah Hamdani. Another Chinar, which is believed to be one of the largest trees of Kashmir, stands just outside the walled garden of Shalimar Bagh, where it struggles for its survival in the midst of an asphalted road and now functions as an out-of-proportion roundabout. Similarly, the Chinar Avenue along Shalimar Canal, a most significant part of the garden and wider landscape features, are all but lost. Just a few chinar trees survive in a dying state. The canal itself is also being destroyed through inappropriate engineered construction, with parts of the canal's edges excavated and being replaced by concrete-stone vertical embankments.
Their number, since the 1970s, has been in a steady decline with over 25,000 trees lost, of the nearly 42,000 chinars that were estimated to have existed in Kashmir prior to 1970. The remaining heritage chinars are rapidly disappearing and at high risk. It takes around 150 years for a chinar to grow to its full size. The average age of these heritage trees is 250 years. Jan Haenraets adds: "For the 25,000 trees lost up until 2004 it would mean that probably over 6,250,000 years of Chinar growth has been lost. The felling continues, with a dire lack of replanting."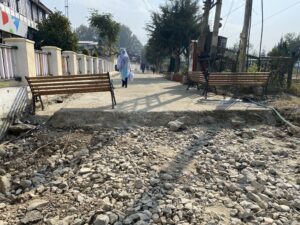 (A tender for the beautification of The Bund has been floated but, as of now, only concreting is being done. The abutting Jehlum Park continues to be in shambles. Pic: Jaspreet Kaur)
 The works under SCM, which had slowed down or were entirely stopped in the last three years of Covid lockdowns, have been revived and are being carried out with great haste. The Polo View Road, now being dubbed as 'High Street' is being pedestrianised.
High Street is a common street name for the primary business street of a city, town, or village, especially in the United Kingdom. It implies that it is the focal point for business, especially shopping.
With the rapid increase in consumer expenditure, the number of high streets in England grew from the 17th century and reached a peak in Victorian Britain where, due to the Industrial Revolution, urbanisation was unprecedented. In Britain, the term 'high street' has both a generic and a specific meaning: people refer to 'shopping on the high street' both when they mean the main retail area, as well as the specific street of that name.
Srinagar has a few markets which are historic, famous and worth a visit but have been lost to the time and conditions of Kashmir. One of these, that still retains most of its original characteristics, is the Polo View Market. Though a relatively small market, it is a go-to place for shoppers, especially tourists looking for handicrafts and artefacts.
Situated in the heart of the city, this market is on the western edge of the famed Polo Ground. The history of Polo View Road began in 1954 with the rehabilitation of almost 32 shops gutted in a fire incident near Lambert Lane, during Bakshi Ghulam Mohammad's rule. Wooden structures were erected, 35 in total from one end to another, from Maulana Azad to Residency road to be precise. 33 of these were of the same dimension and 2 were bigger. These shops, allotted primarily to showcase Kashmiri arts and crafts, lined a stretch of approximately 160 metres.
The Maulana Azad Road (MA Road) end of this market again was destroyed in fire few years later and subsequently authorities allowed the shops to be redone in concrete with few floors added on top.
On the opposite side towards the Maulana Azad road end was the shop of K Salama, the famous tailoring shop, and shops of Sweller Roy, G M Bawan, Thankers Agency, G M Shah, Sham Brothers Furrier. On other side of this corner was Khawaja Samad Shah's shop and next to it was Noor Din Pandit's Pashmina and Shahtoos Shawl shop. Ali Mohammad Bhat & Brothers and Vogue House followed next.
And towards the Residency road end was Dr Ali Jan's clinic, above Ghulam Mohiuddin & Sons (opposite the famous Lala Sheikh & Sons tea house), selling jewellery, carpets, stones etc, and the La Belle café. The famed Rajab motors, haven of the vintage vehicles, lay in between. With time these shops opposite to the Polo View Lane slowly got amalgamated in the Polo View Market. The market had Sarabhai and other chemists, leather stores, and FE Paul Tailors, who were family tailors of Maharaja. Other known shops were of Khazir Mohammad & Sons and Glimmer Arts, a popular place known for its Kashmir Arts and embroidery collection, and Syed Shah Embroidery.
This exclusive retail area has had its own issues of parking and also flooding during heavy rainfalls. Also, due to the overall situation of the last thirty years or so, many shops were sold and other businesses opened up, such as footwear, computers, pharmaceuticals, readymade garments and stationery, thereby getting a considerable local footfall as well.
As of now, there are about 35 shops on the Polo Ground side and 20 on the side opposite. The top floors have been converted into office spaces or serve as extensions of the shops below. On the Polo Ground side, there are few buildings that were once ministerial bungalows and few government departments. At present the now dissolved Kashmir Press Club and the Estates Office are located here.
The area used to have a Sumo (taxi) stand located at the south end of the street on more than 2 kanals of land behind the market, on the Polo ground side, which has now been converted into a motorable road.
For the Polo View Road 'High Street', according to the proposal under SCM, a complete revamp has been proposed with pedestrianisation of the street which includes street furniture, lighting, façade improvement, provision of public amenities, central storm water drainage and putting all overhead wires and cables underground. The tender was floated by Srinagar Smart City Limited for INR 5,30,00,000. What is planned for façade improvement is not entirely clear as of now, but one of the shopkeepers said all the roofs shall be finished with green roofing material, possibly shingles, and perhaps signage will be reworked and made consistent.
The project was inaugurated in February this year and the foundation stone laid by the Lieutenant Governor of Jammu and Kashmir, Manoj Sinha, marking the Polo View Market Development & Upgradation Project under the Srinagar Smart City.
The work was to be completed by end November, this year. However, in its current state, with the winter already setting in, the work maybe completed in another few months.
On the Bund Road, a few colonial era half-timbered buildings remain along the northern towpath of the Jhelum River. The most splendid example is the former British Residency Building, now restored as a state handicrafts showroom. The Suffering Moses crafts shop lies to the west of the post office.
The Bund is connected to the Residency Road through alleyways except near the J& K bank and further up near the GOP lane, where there are wider openings. It is connected to Rajbagh with two pedestrian bridges. The Bund area is mostly used by the locals, tourists are found only near Chai Jai and Goodfellas café.
The Kashmir irrigation and flood control department had floated a tender for beautification of The Bund road, accesses, parks, illumination, public amenities, social spaces and ghats for a total value of INR 39,09,99,000. As of now, only the concreting of The Bund Road is being done. Jhelum View Park is in shambles. It has been left unattended by the authorities and there is an overgrowth of excess grass in the park, making it inaccessible, especially near Masjid Imam Zaman.
The entire stretch of Polo View Road and The Bund road is being finished in concrete with tiles and diveri /dewri stones on the Polo View Road. The diveri stone is a limestone. As explained by Saleem Beg, Convenor INTACH, Jammu & Kashmir, the name diveri probably has its origins in the use of this stone in temples dedicated to devi. The other interpretation is that the stone is known as dever in Kashmiri and 'i' is added wherever Kashmiri words are written in Persian. The earlier temples were constructed of this stone. The present restoration at Martand Sun Temple in Anantnag is in diveri. Now this stone is mostly being used for the pavements in shrines. All plinths in mosques and well-constructed houses, as a rule, are in diveri.
Beg adds: "This stone was suddenly, in the recent past, being used in non-religious places, because unlike earlier when it was used as a quarried stone, it is now machine cut into 2-inch-thick tiles, and has subsequently found its way in to the PWD Public Works Department) schedule." It is these tiles which are being used on Polo View Road, with another tile on the sides. The Bund Road too is being finished in paver tiles over concrete.
Earlier, when this stone was for used for paving, it was laid on compacted soil with a layer of light grey soil, hueir mech, which is rare now and has been replaced with fine ground dust of refuse from construction sites. The gaps were then filled with lime mortar, replaced with cement mortar now. The stones were then levelled by pounding with a hand-held press, called dhurmuth, made of a steel plate fixed to a long rod.
With the winter setting in, and concrete yet to be poured, especially on the nearly one-kilometre-long Bund Road, where the current asphalt road is being replaced with concrete, it can lead to a weaker concrete and if concrete curing temperatures are below freezing, the water inside the concrete can freeze and expand, resulting in cracks. The Bund Road has no traffic barring an occasional bicycle or a bike. There was actually no need to concrete the road. Pavers would, by far, have been a better solution.
Combining the Bund Road and the Polo View Road, a stretch of nearly 2 kms is being concreted, which is an impervious material. In urban design and landscaping of areas, a certain maximum percentage of site that can be impervious has to be set, which includes paved and roofed areas, existing and new. Where this level is 10% or lower, hydrological features of the area can be considered protected. Above 10%, impacts are serious enough to require mitigation, and where 30% of the area is impervious, as is likely to be on Polo View Road, degradation of the ecosystem is almost inevitable. This also adds to the heat island effect and, as discussed earlier the chinar trees cannot possibly sustain with so much concrete around.
Porous asphalt and concrete are other options that provide excellent drainage and erosion control, both of which are good for the environment. These materials use a porous design that is both durable enough to handle heavy traffic, yet porous enough to allow water and other liquids to flow freely right through it.
The most eco-friendly paving solutions, permeable pavers are by far the best choice. They require no concrete or asphalt and use far less equipment in their production. The material used to construct sidewalks needs to be consistent, stable, slip-resistant and designed to facilitate drainage.
Besides the concrete or recycled plastic pavers, there is also the option of cobble stones, though more expensive, for areas where no vehicles are to be allowed. Rome would not be the same without its ubiquitous cobblestones, known locally as sampietrini, which carpet the streets and alleyways of the city's historic centre and have existed for centuries. They are robust, durable, aesthetically pleasing and quick to remove when required, they offer easy drainage and can be reused. The stones were laid on a bed of soil and crushed gravel and filled with lime mortar. With care, the stones can be laid fairly evenly, although it may hinder movement of wheelchair and strollers, if used in bigger sizes.
In addition to its ecological advantages, porous paving can save construction and maintenance costs, because it doubles as a storm water system and can lessen the burden on or entirely eliminate storm water drains, and work out to be cheaper by 30% or more.
A second, greater saving, occurs where a porous paving reservoir system substitutes for open storm water detention, retention, or infiltration basins. The land area otherwise required for the basins is freed for other use. On Polo View Road, the earlier road width, now concreted and to be finished with tiles, is sloped towards central storm water drains which connect to the city systems, usually emptying out to the Jhelum River. The functioning of these storm water drains, in the long run, would depend on the maintenance of not just these drains but the connecting drains, manholes as well, as this stretch is prone to flooding during heavy rains. Also, in the absence of any impervious material, no water will be retained in the ground.
Akshay Kaul, a renowned landscape architect says: "Street design has evolved over a period of time across the world. In most developed countries, there are clear design guidelines that need to be adhered to. These guidelines take into consideration storm water, snow, environmental conditions, and most importantly, pedestrian safety.
They create standards for sidewalks, curb heights, universal accessibility, planting and drainage, snow removal and other design considerations that then become integrated as part of street design.
These are holistic in nature and not piecemeal, isolated sections of a city's street. A city may have many types of rights of way (ROW). However, for Indian streets, one needs to question these, given the nature of movement that happens on our streets.
As regards Polo View Market, drainage will be an issue now, w.r.t. curb level vs. store level. The median is too small for the large chinar, which may spell a slow death for the trees. More importantly, the question is: if it is already an okay street, why spend so much money on it? Making one street walkable while other streets barely have sidewalks doesn't make sense. It is more important to make streets work with a set of street guidelines based on the ground realities of streets in Srinagar and then allocate the limited funds for appropriate use. It is not as if we have unlimited money for all streets in Srinagar. In my opinion, when they 'make over' the street, the biggest casualty are the trees, as people involved in construction are clueless about what damages they may cause. I see it in Delhi these days, everywhere, when they raise the median. Changing levels, concreting—all this damages the root system."
He adds: "They need a storm water and drainage master plan of the city, then create a drainage system, integrate the road storm water system, treat it in artificial wetlands before discharge it into lakes and water bodies."
In places of the central concrete drains, it would have been better to plan for bioswales. Bioswales are vegetated, shallow, landscaped depressions designed to capture, treat, and infiltrate storm water runoff as it moves downstream. Bioswales, composed of natural vegetation, are the most effective type of green infrastructure facility in slowing runoff velocity and cleansing water while recharging the underlying groundwater table. They have flexible siting requirements, allowing them to be integrated with medians, cul-de-sacs, and other public space, and in the case of Polo View Road, it would have been a more sensible option around the chinar trees.
The Polo View Road has a concrete pavement on the shop side which, even without tiling, has almost reached the floor level of a few shops. The earlier road width has been given a considerable slope which is visually apparent. For surface water runoff, a one-degree to two-degree slope is sufficient. The angle of a sidewalk's cross slope should ensure efficient drainage without being too steep.
A pedestrian zone, in a retail area needs to have three distinct zones: frontage zone, pedestrian zone and furnishing zone. And a buffer zone when abutting a vehicular road. This provides enough space for people to use the sidewalk in a variety of ways: to walk, to socialize, to access buildings, etc. A sidewalk's furnishing zone, next to the street, can include urban furniture like benches and trees. The pedestrian zone, where people actually walk, should have no obstacles. The frontage zone often accommodates the furniture of commercial establishments and allows people to linger in front of buildings without disrupting the flow of those walking in the pedestrian zone.
The public sidewalk should be accessible to all, including wheelchair users, pregnant women, the elderly and others with special mobility needs. A sidewalk that is intuitive and easy to use incorporates proper signage, curb ramps, and tactile surfaces to help people with impaired vision.
Also, and more importantly, the sidewalks work effectively only if there is a system or network of sidewalks in the city, which is amiss from most Indian cities. This is essential to make our cities truly and efficiently walkable.
Roads are being widened, reducing or entirely eliminating sidewalks. In some places the footpaths are so high and narrow that it's impossible to walk on them. Whereas in many cities around the world, road widths are being reduced to streamlining traffic with wider sidewalks to facilitate pedestrians. Narrower streets help promote slower driving speeds which, in turn, reduce the severity of crashes. Narrower urban streets have other benefits as well, including reduced crossing distances, shorter signal cycles, less storm water and less construction material to build.
Sidewalks or footpaths and cycle paths exist in discontinuous stretches discouraging walking and/or cycling. Most of the shopkeepers are concerned about parking. With parking areas proposed at a distance from the Polo View road, it is imperative to facilitate walking stretches for the shopkeepers and the shoppers to their destinations. There was also a mention of a mechanised ramp by some shopkeepers, about which they have heard from the authorities, but the how and where of it is not known to anyone. The shopkeepers are keenly awaiting the beautification of the Polo View Road, though the wait is going to be for another few months. However, they are also concerned about their business, which has already been adversely impacted due to lockdowns and the pandemic. It has been further affected due to construction and closure of parking space.
NIT has also been issued for improvement and upgradation of markets/ streets/ roads of Shehr-i-Khaas on the right bank of River Jhelum namely, Nawakadal, Aali Kadal, Rajouri Kadal, Maharaj Gunj, Zaina Kadal, Malaratta, Nowhatta, Naqshband Sahib, Saraaf Kadal, Rajouri Kadal, and Jamia Masjid including allied works of undergrounding of utilities, footpaths, drainage, electrical work and illumination etcetera.
Besides the development of a cycle track along the Bund, from Shivpora towards Batawara, a cycle track is being proposed on the North Foreshore Road, where the entire stretch has been dug up. The Nishat pipeline, a water transmission main to the city is passing under, as pointed out by Prof Kundangar, former Director (R&D), JK LCM. The proposed cycle track is only between Naseem Bagh and Nishat Bagh, a distance of approximately 6 kms.
The width of the proposed two-way cycling track and pedestrian walkway is around 14ft. The cycle track is to be finished in rubberised concrete. Viewing decks are also part of the design. The existing metal fence, on which crores of rupees had been spent earlier has now been demolished to make way for the cycling track, as also the wooden jetties. The work is expected to be completed in about a year's time.
The area along The Bund and the Dal Lake and other water bodies, needs watershed management. Along with beautification, conserving, cleaning and maintenance of the water bodies is essential, in fact of prime importance.
One of the main components of SCM is engaging with all stakeholders of a project, including local communities, in this case the shopkeepers of Polo View Market and The Bund, as also the residents and café owners on The Bund. However, while talking to many of the locals, it came to the fore that they were completely in the dark about the project and got to know, whatever little they knew from the supervisors/workers at the site or reading in the local dailies.
No single stakeholder is identified as more important than the others but all of them are identified as necessary ingredients for success. So, the interaction between government, enterprises, facilities, and citizens would be eased by connectivity, on the one hand in the sense of vertical decision-taking, on the other hand in the sense of better access for all to public services.
Srinagar, like most other cities, is facing considerable population growth, increasing pressures and economic burdens. To remain competitive and achieve sustainable growth, cities must find ways to boost their efficiency and reduce costs while ensuring good quality of life for its inhabitants. The smart city paradigm allows governing toward futuristic models of cities (post-carbon, waste, water, and energy autonomous, etc.) promoting virtuous stakeholder behaviour and awareness, improving bottom-up citizen-driven experimentations and implementing innovative lifestyle in all services to residents.
Jaspreet Kaur is a New Delhi-based architect and urban designer.