A celebrated food critic and writer, Marryam H Reshii recently received the Lifetime Achievement Award fromThe Big F Awards.
Jaspreet Kaur
Marryam, a star in the culinary world, has been writing about food and lifestyle for over 30 years.
She has been the Times of India food critic since 2008, besides being an independent writer on cuisine. She has a weekly column published in the Friday edition of TOI. Marryam has several books to her credit, including those for the Times Group Books imprint about India's food scene in terms of best restaurants, notable chefs and cuisines. Apart from that, she has done the text for books on Kashmir for other imprints.
Her food stories are written in her now recognisable style. And of course, the accompanying photographs are a treat for the eyes – colourful and well-composed in space, light and shadow. She is a trained photographer.
While her writing is usually about food presentation, taste, and texture, Maryam is equally interested in food history. She has travelled the world to explore culinary trends, to discover ingredients, experience different regions, people, culture, and cuisines and in the process maybe even discover lost recipes.
She enjoys researching ingredients, utensils, spices, and cooking styles. She was also involved with the Times Passion Trails, a Times of India initiative, in which she would take a group of Times of India readers to Kashmir to experience the food culture of the Kashmir Valley, and has led food-based trails within Delhi as well.
Born in Mumbai, then Bombay, as Marie D'Souza to Goan parents, she and her younger sister moved frequently with their parents on their father's postings at the Grindlay's Bank. There were stints at Cochin, New Delhi, Bombay, Guwahati (Gauhati), Amritsar, Bangalore, Tuticorin and other cities across the country. From 1967 to 1972, both sisters were sent to St Mary's Convent, a boarding school in Nainital, rather than have their formative years disrupted by constant transfers.
How it Began
Their cook, hired in Cochin (now Kochi) during their earliest years, travelled with them all over the country, so that home food remained the same, no matter where in the country the family went. Rice was a staple and no form of wheat roti, poori etc was ever made at home. Eating out was more or less synonymous with Chinese food, and sampling the local cuisine was a rare exception.
After completing high school, she joined IP College in Delhi where she majored in Psychology Honours. Since then (1973) she has continued to live in Delhi and as she says became a pucca Delhiite. Travelling to Goa, where her parents had settled after her father retired from Grindlay's, she knew instinctively Goa was never an option for her, due to the culture shock of a rather provincial life in an obscure Goa village, after having lived in well-staffed kothis and well-appointed flats in a succession of towns and cities, where the family was never expected to 'fit in'. Goa was the first place where she was expected to be part of a community that she had never been eased into, in the first place.
Hence, both sisters made their way to the city that had been their single longest residence: Delhi. At first, they lived in a rented barsati in Nizammuddin. Much later, they were eventually joined by their mother after their father passed away.
After initial few jobs in the corporate world which included a Christian Missionary in Delhi as a secretary, the Oberoi corporate office and an advertising agency, Marryam increasingly felt like a misfit in the corporate world. Her mother encouraged her to take up creative writing and take photography as a hobby. First day, first lesson in photography and Marryam knew her mother was right. Rest was a cakewalk – unlike the depressing politics of the corporate world.
While studying photography, she worked for Stein Doshi and Bhalla, a renowned architecture firm in Delhi. Marryam had done extensive photography of Joseph Allen Stein's buildings in Delhi, such as the India Habitat Centre and the India International Centre, which greatly impressed Stein. She later sent him a picture of the SKICC in Srinagar to which he responded with a letter commending her on how accurately she had managed to capture his work in a single image. While being part of the administrative set-up in the office, Stein then 83 years old, would ask her to research on paper other than Gateway – a tracing paper that architects worked on before the computer age. She would then scour the bazaars of Delhi for alternatives, which took her to a world beyond the typewriter.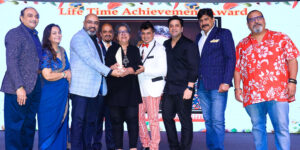 In her typical style, Marryam talks about her time in Stein's office: "Now, when I go to IIC, it gives me joy to look at the simple, elemental lines that Stein envisaged, broken up with his now famous jalis. You can sit in one of the cafes or the library and even your thoughts become clearer and more coherent. That is what all-embracing architecture is for me. It was a privilege for me to work in Joe Stein's office."
After Marryam completed her photography course, her mother and sister advised her not to return to the corporate sector but try to live off her earnings (with their support) for six months to figure out if what she wanted to do was sustainable. It certainly was! It was in the year 1986 that she travelled to Palitana, Gujarat, to take pictures of the 863 Jain temples atop a hill (Shatrunjay) near Bhavnagar. She showed her photographs to a magazine but was asked to write descriptions of the pictures. She did so reluctantly, being far more confident of her photography than her writing! And this was the start of her much-appreciated writing career.
She began writing freelance articles on travel for, among others, the Saturday Times, the forerunner of Delhi Times. In another newspaper, when she requested the editor to let her write on food, she was told there was "no such thing as food writing in India." This was the 1980s. However, Marryam decided to explore the basics of food, the elements of taste, ingredients and other 'nuts and bolts' of food writing.
By 1987, a publisher of a slew of travel trade publications, Navin Berry, got in touch with her to write a series of tourism brochures about selected aspects of Kashmir. Berry had a contract with J & K Tourism to produce tourist literature on the state and was asked by the then Director General, Gh Mohiuddin Shah to cover various parts of Kashmir, including the lesser-known places, shopping, and adventure sports. Entrusted with this job, Marryam travelled across almost the entire length and breadth of the valley during her stay of one month and subsequent visits.
Maryam's first trip to Kashmir was as a 6-year-old. Recalling the visit, she says: "As a child I was fascinated by the number of houseboats in Dal Lake. Almost every boat displayed a 'to-let' sign that I misread as 'toilet' and I would constantly wonder about that anomaly. During one of our shikhara rides, the boatman gave me and my sister the soft white seed inside of the lotus bud called pumbach in Kashmiri. I still remember how delighted the boatman was to see our excitement on being offered such an exotic delight.  Similarly, at the hotel on the Boulevard where we stayed, the staff would scrape off sweet edible gum from the gum tree in the hotel garden and we would be delighted with the generosity and affection: so different from our cut-and-dried lives in the plains."
It was, many years later, in Agra on one of her many projects for Berry, that she met Hafeez Reshii, who was to become her husband a year later in 1991.
Balancing travel, writing and family has been a challenge. She would give up on travel for children's exams or other family occasions, though her mother would help look after the children, as she and her husband had to manage between Delhi and Agra.
New Avenues
After marriage and children, Marryam was exploring other avenues since writing on travel had become difficult. In 1996, she got the opportunity to write on food for the Business Standard. To prepare for this, as Marryam explains she took a "crash course by eating everywhere, listening to everyone, meeting people and chefs." Her writing was much appreciated, so much so that any chef visiting from abroad was told about her and asked to contact her for writing about them and their expertise.
Explaining about her work as a food critic, she lists a few essential parameters. The most important, she says, is to keep an open mind while tasting food. Strong biases must be avoided at all costs and you have taste everything that is served. "If you dislike a dish on the first bite, have a second bite to understand what you don't like about it," she adds. Over the years she has developed her own checklist which begins, first with eye appeal, that is, presentation, colours, freshness, visual textures etc, followed by taste and how the food feels in your mouth.
In the age of social media dominance, Marryam's posts stand out as a few among the countless food bloggers around the world who can write descriptively and critically about food. There is an added story telling "about taste and texture or the provenance," if the food demands it. For example, chillies came to North India during the reign of Emperor Jahangir, brought by the Marathas from Goa, the first place in India to grow chillies that the Portuguese had brought from South America. Before that, the traditional 'hot' spices used were pipali (long pepper) and black pepper nearly out of use now.
One of Marryam's memorable trips was to Madurai which has some wonderful restaurants offering Tamil cuisine but with surrounding regional variations, such as Chettinad food, Dindigul biryani and the popular local street food – kothu parotta. She says that, on such trips, she can explore much more than if a visit is sponsored by a hotel or a tourism board which is rather restrictive.
Explaining about the range of cuisines she has explored, she says that some of her best meals have not only been the ones in the finest hotels or those prepared by Michelin starred chefs, but also food in dhabas, and street food. Ingredients, spices, utensils, regional cuisines, forgotten recipes, the chaat-walas in the by lanes of Old Delhi.
On how she keeps abreast with world cuisines and ingredients, she says: "Travel, observing and tasting is the best way to learn … my profession is also my hobby and my passion which is integral to my life in general. Food is local ingredients mixed with style … it is as elemental as parental love. It is my obsession to discover and learn about both traditional preparation methods as well as changes they are going through."
She goes on: "The primary objective of a restaurant is to deliver tasty food day after day, even if that means sourcing exotic ingredients from a distant part of the world. Today's fad foods and extreme diets militate against what food has meant for man since the beginning of civilization. The best thing is to eat, enjoy and be grateful for the food."
Marryam's passion with local ingredients and spices led her to travel extensively in a bid to understand every aspect of these magnificent, yet sometimes lesser understood ingredients. 'From the market yards of Guntur, India's chilli capital, to the foothills of Sri Lanka in search of 'true' cinnamon, and from the hillsides of Sikkim where black cardamom thrives to the saffron markets in the holy city of Mashhad, Iran,' Marryam collected exciting tales of travel and discovery.
The result was The Flavour of Spice that brings together stories about the origins of spices and how they evolved in the cuisines across the world. What makes the book even more interesting is the family recipes from chefs and home cooks. For this, she was awarded the Conde Nast Traveller award in 2018, the year of publication of the book.
As far as Indian cooking is concerned she explains that just by varying the quantities and combination of the basic spices: the largely unsung zeera, dhania, haldi, mirchi  – one is able to achieve a number of distinct flavour profiles.
About cooking at home and her favourite food she says that "although we try various recipes, especially during the pandemic months, my all-time favourite and comfort food is dal with a simple tadka of zeera, heeng and haldi. But of course, our family favourite is the rogan josh cooked by my husband.
"My mother-in-law was an excellent cook and my father-in-law the best food critic," she adds. "Mum's food tasted of the sheer love she put into cooking for us, her family. And dad could tell in a single morsel who had cooked the dish of the day, simply by the spices of the tadka or the taste.
Kashmiri Food
Marryam laments that the traditional recipes of the wazwan have undergone a substantial change. The cricket ball-sized gushtaba in the yellow yakhni that she had back in 1987 was a masterpiece compared to what is served in the wedding wazwans of today.
Even in private homes, cooking changes due to the change from a sitting kitchen to a standing one, or the change from copper utensils used on wood fire to pressure cooker on gas stove. The  use of rice cookers too has resulted in change in tastes and textures of traditional recipes.
However, she feels the Kashmiri wazwan as traditionally prepared with the emphasis on red meat, cooked in vast amounts of oil is a recipe for disaster with our sedentary lifestyles. Added to which is the fact that life without eating from a fully laden trami at a daawat is unsustainable, given the lifestyle changes, especially in urban areas and resulting health complications.
Of recent times, new restaurants and cafes have been springing up, offering other cuisines and food types. It is commonplace, however, for a resident of Srinagar, after a cup of tea and a mutton kanti to still have a full dinner at home. Her recommendation for visitors looking for good Kashmiri food is to keep in mind that a restaurant serving good food may not be too presentable and a posh place may not have very good food.
In addition, there has been a great deal of change in the local produce with shrinking agricultural land due to the exponential increase of built infrastructure and housing. The plump-grained Kashmiri rice variety known for its fragrance, mushk budij, is now rare and now rice primarily comes from the plains.
As part of her twin passions – food and travel –  Marryam's dream is to write a book on Kashmiri food.
Jaspreet Kaur is a Delhi-based architect, urban designer, Trustee Lymewoods & Span Foundation and Consulting Editor of Kashmir Newsline.