How, at Test level, nerves got the better of two enormously talented batsmen.
Faheem Gundroo
According to psychology, human brain wasn't built for high performance; it was built for safety. Perhaps it's because of the thousands of years that we humans lived as foragers in the wild, hunting and scrambling for food, trying to protect ourselves from wild animals.
In 1988, Australia toured Pakistan, always a tough opposition. Steve Waugh was part of the squad. These were times when Allan Border was rebuilding the famously tough Aussie image. Kim Hughes, quite dramatically, had given up captaincy in 1985, virtually in tears. On the final day of the second Test at Faisalabad, Steve Waugh played a rank dolly by Shoaib Mohammed on front foot, straight into the part timer's hands. This was perhaps Shoaib's only test wicket.
Steve Waugh states in his biography that on the plane back home after the tour, he questioned his ability to play Test cricket and thought he wasn't good enough. He says he thought he was wasting his time playing cricket.
A year later on the 1989 Ashes tour Waugh scored two massive match-winning hundreds and averaged above 100, with Australia regaining The Ashes after almost a decade, followed by another match-winning hundred against Sri Lanka. What transpired in between these 8 months is anybody's guess. Steve Waugh went on to become one of the greatest Aussie Test batsmen, famous for his mental toughness. When the chips were down, it was Steve Waugh who would, more often than not in his dogged demeanor, bail Australia out.
It seems some are born with mental toughness, equipped naturally to handle the pressure of international cricket. The likes of Ian Botham, Wasim Akram, Brian Lara, Sachin Tendulkar or Kevin Pietersen carried the pressure of their fans almost every time they went out to play.
For others it's not always easy. To me Mark Ramprakash was the most talented batsman of his generation who could easily have played hundred Test matches and averaged fifty. He was a class act. Perfect technique, high back lift, free flowing drives – an artist of a batsman. He plundered runs in the county circuit, averaging 53. Yet when it came to Test cricket, Ramprakash invariably failed to reproduce the same level of performance, averaging just around 27 in 52 tests that he played. There certainly was no dearth of talent in him. So why didn't Ramprakash fare well in the Tests? He confessed that the whole peripheral atmosphere of Test cricket on the full house Thursday morning was something he couldn't come to terms with. It unnerved him. At that level, in addition to the talent, it's the mental ability that separates the wheat from the chaff.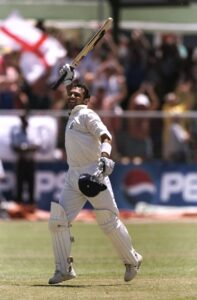 (Mark Rampraskash celebrating his maiden Test hundred at Barbados in 1998, seven years after his debut.)
For Ramprakash, the whole experience of Test match cricket was nerve-wracking. During the 1992 summer, he recalls he was so nervous facing Wasim Akram first up that he had preplanned to play on the front foot no matter what the delivery was. As it turned out, it was a full toss, but since Ramprakash had committed on the front foot, he was embarrassingly given out LBW. This was pure nerves and had nothing to do with ability. The pressure of Test cricket had clearly clouded Ramprakash's mind so much that he wasn't able to think clearly. It took 3 years for him to return to the Test side.
When Graeme Hick, at the age of 25, took guard on the morning of June 1991 at Leed's, he was widely tipped as the next great English Test batsman. And this was no exaggeration as up till then Hick was averaging well over 60 in county cricket. A prodigy of sorts, Hick had belted bowlers all around in the firstclass arena. Born in Zimbabwe, Hick did the mandatory seven year period in England before he could represent them. It was almost a foregone conclusion that he would come good in Tests. Yet he didn't.
At the end of that summer in 1991, he had played five Tests against West Indies, scoring 180 runs and averaging a miserly 18. Curtly Ambrose got the better of him on five occasions. Hick was jilted and the struggle continued right through his career. In the next summer, it was Waqar Younis who played havoc with him, clean bowling Hick on four occasions. He was famously heckled by Merv Hughes in the 1993 Ashes, abusing the poor batter. It was sad to see him struggling in Test cricket. Hick finally ended his career in 2001, having played 65 Tests and averaging 31. A very poor record compared to his first class career, where he averaged 53, scoring a hundred hundreds.
In Hick's case, it seemed the burden of expectations did him in. None of Hick's or Ramprakash's teammates were able to understand why they the two couldn't deliver at the Test level.
In another case, something quite astonishing happened on the 2006-07 Ashes tour. Marcus Trescothick returned home without taking any part in the tour citing medical reasons. As it turned out, Trescothick had been battling clinical depression and wasn't equipped to play Test cricket. For a batsman who was the fastest to reach 5000 test runs, this must have been a brutal blow.
The Trescothick episode however was the shock that the cricket management needed that up till then had neglected the mental aspect of the game. A modern day international side now invariably has a psychologist as part of the support staff and the results have been quite good. It is clear that, even if an international cricketer isn't born mentally strong, with proper counseling and support, a lot can be done.
I've little doubt that if Ramprakash and Hick had played in the current times, with proper support, they would have been counted among the greatest batsmen of all time.
A cricket puritan, Faheem Gundroo is an ICT engineer based in Dubai with interest in travel, history, and current affairs.