It is the soulfulness that often connects these delicacies to the people with their communities, religions and the cultural traditions.
Jaspreet Kaur
The practice of community kitchens (langar or bhandara) is said to have been started by the Nath Jogis, followed by Baba Farid, the Sufi saint who established the Chisti order in Punjab. On Khawaja Moinuddin Chisti's birth anniversary, people visiting the dargah in Ajmer are served kesariya bhat – made from broken wheat, sugar, ghee and dried fruits. Colleen Sen writes: "As the food is considered to be imbued with blessings, it is considered an honour to accept it and the food is consumed by the rich and poor, and even devotees from other faiths." Mughal emperor Akbar had a giant cauldron, that could serve 15,000, made at Ajmer to celebrate a victory. A smaller one was built by his son Jahangir.
The community kitchen, seva, is the core concept of selfless service in Sikhism. The concept of langar—free food served to people, regardless of religion, caste, colour, creed, age, gender, or social status—was a symbol of charity and equality introduced into Sikhism by Guru Nanak around 1500 CE in Punjab. The second guru, Guru Angad, systemised the langar, which firmly got established as an institution by the third guru, Guru Amar Das, in all Sikh Gurdwara premises, where visitors from near and far could get a free simple meal in a simple and equal seating.
The Sufi langar (lanker) practice was also common in Kashmir. There are two places named after these community kitchens – Bulbul Langar (Bulbul Lanker) and Jogi Langar (Jogilanker).Bulbul Langar is after the name of first Muslim missionary saint, Bulbul Shah, and was established by Rinchan Shah. Many years later, Sultan Zain-ul-Abiddin ascended the throne of Kashmir in 1420, and at the request of Brahman courtiers, established a langar, on the lines of Bulbul Langar, on the banks of the Dal Lake for the travelling jogis.
The tradition of sasras is known to every Kashmiri. It is the preparation and distribution of  food, the bright yellow rice. taher, to seek an end to incessant rains and climatic changes, in Srinagar. In June, this year, the streets in Srinagar lined up with cauldrons full of the brightest yellow rice cooked and distributed for sasras, an old tradition to pray during continuous rains or ward off floods and other calamities. Metaphorically, the floods also refer to the deluge of sins committed. Turmeric yellow rice was distributed outside Dastgeer Sahib at Khanyar and at the Ziyarat Naqshband Sahab. The tradition of sasras is known as bhandar in some rural parts of Kashmir. Bhandar is niyaz or charity/ offering organised for poor people. This is similar to bhandara service of the mainland which is the special free meal, served to the needy and the devotees present in a temple. Bhandara is a festive occasion as part of thanksgiving to God and service to people in Hinduism.
Interestingly, few years ago there used to be a procession of men and women, mostly farmers from distant regions, who travelled barefoot to empty their water pitchers into the pond at Makhdoom Sahib shrine. This ritual was meant to invoke Allah for rains during the very dry days in order to prevent the crops from dying which would also mean a spell of hunger for the farmers.
Food and Its Cultural Associations
Food is seen more than just a means of survival. Food shapes us, our identities, and our cultures and in the end, our society. There is a relationship between culture and food. Food transmits a meaning that varies from culture to culture.
Beyond merely nourishing the body, what we eat and with whom we eat can inspire and strengthen the bonds between individuals, communities, and even countries. Food plays a large part in defining family roles, rules, and traditions. This negotiates our identities, cultures and environments.
Food also has symbolic meanings based on association with other meaningful experiences. Bread is a good example of the symbolism found in foods. When people sit together with friends at a meal they are said to break bread with one another. This expression symbolizes a setting where family and friends come together in an inviting and jovial manner to eat.
While like language and traditions, food binds communities, it has also absorbed influences and crossed borders. Besides human migrations, one of the reasons for such amalgamations has also been religion. Spread of various religions over regions and cultures has resulted in some foods being associated with certain religions, which again take local hues. And in many instances, certain food types have crossed over to other religions and traditions.
Some food beliefs and practices are based on religion. Around the world, Muslims fast during Ramzan. They fast during daylight hours, eating and drinking before dawn and after sunset. Orthodox Jews and some conservative Jews follow dietary laws, popularly referred to as a kosher diet which is part of their Jewish scripture. The dietary laws, which describe the use and preparation of animal foods, are followed for purposes of spiritual health. Many followers of Buddhism, Hinduism, and Jainism are vegetarians, in part, because of the doctrine of nonviolence. Abstinence from eating meat in these traditions stems from the desire to avoid harming other living creatures. Despite religious food prescriptions, dietary practices vary widely even among those who practice the same faith. Such variations may be due to sub-sects of a religious group, national variations, and individuals' or families' own degree of orthodoxy or religious adherence.
The list of foods associated with religious traditions is fairly extensive and includes milk, figs, Easter egg, wheat, rice, millets, wine, ghee, dates, tofu and many more. Prepared food includes cakes, breads, halwa, sweet and savoury rice, kheer, dumplings, pancakes and several meat preparations as well.
There is another factor that binds cultures and religions where food is concerned, that is colour. Colour is also the single most important sensory cue when it comes to setting people's expectations regarding the likely taste and flavour of food and drink. Subconsciously, colour affects all our senses and colours have an important effect on our appetite and the food we choose – they can make us feel hungry, sad, happy, relaxed or energetic.
Colours have religious associations as well as cultural and many a time these relate to food as well. In Buddhism, colour goes much deeper than surface decoration; it symbolizes the state of mind. Buddhists believe that meditating on the individual colours and their essences is a way to achieve spiritual transformation. In Hinduism too, colour plays an important role in creating an environment that enhances mood and well-being. Red, saffron, yellow and blue have a lot of cultural and religious significance. While green is a sacred colour in Islam, blue in Judaism, in Christianity black, blue, purple, red and white have several symbolic associations.
In this realm, the Buddha is yellow which stands for restraint and nourishment. It was chosen by the Buddhist faith as a symbol of humility and separation from a materialistic society. Therefore it is said to signify renunciation and being the colour of earth, it is also a symbol of the equanimity of the Earth.
Yellow in Hinduism is the colour of Lord Vishnu. Some tribes believe that the colour yellow has powers to keep evil spirits away. In the southern part of India, yellow thread is tied around the neck of the bride by the groom symbolizing marriage and its sanctity. It is clear that yellow has much symbolic meaning. In Buddhism as well as other religions, the colour saffron-yellow has great symbolic significance.
Yellow and orange are the traditional colours of Vaisakhi.  They represent the spirit of rebirth and sacrifice of the Punj Pyare but are also a colour of joy and celebration.  When Vaisakhi is celebrated in Punjab, the golden yellow wheat fields are ready to be harvested.
Yellow Rice: Taher and Zarda
Yellow rice is a traditional yellow-colored rice dish in Spanish, Iranian, West Asian, Moroccan, Ecuadorian, Peruvian, Caribbean, Portuguese, Filipino, Afghan, Indian, Sri Lankan, South African and Indonesian cuisines. It is made using white rice made yellow with annatto, saffron or turmeric, ingredients used to give the rice its yellow color.
Yellow rice is a common symbol of many South-East Asian celebrations. It is often served during festivals or other occasions in Indonesia: wedding, birthday, anniversaries, new baby born, house warming. Yellow is a symbol of good fortune, wealth and dignity.
The taher / tahri of Kashmir, a savoury rice dish prepared with turmeric, is believed to be a dish of Awadhi origin called tehri, which traditionally consisted of yellow rice and potatoes, like a vegetable biryani. Tehri appears in many forms, with variations that stretch across the Deccan plateau, to the valley of Kashmir, and across the border to Pakistan, each with its own fascinating origin, story and recipe. The bright yellow of the dish is also said to be a celebration of Basant Panchami.
It is said that it was developed for the Hindu bookkeepers, the Kayastha community, of the Muslim Nawab rulers in South Asia.It is likely that either a cook in an aristocratic household attempted a vegetarian version of pulao or it could just have been made by common folks, inspired by the stories of rich biryanis from the royal kitchens.
Even here, tehri is cooked differently; the most common version requires each grain of rice to be separate and coated in fat. But during the new harvest season, tehri is lumpy because of the presence of starch.
Tehri became popular during the Second World War when meat prices increased substantially and potato became the substitute in biryani.
The difference between Kayastha and UP Khatri recipes for tehri is the use of onions and mustard oil. The Kayastha community uses both, and the Khatris cook theirs without onions, and use ghee instead of mustard oil. This difference is also found in how the tehri or the taher/ tehar/ tahri (as it's called in Kashmir) is prepared by the Kashmiri Pandit and Muslim communities.
Taher plays an important part in the lives of every Kashmiri irrespective of religion. Taheris made to ward off evil. It is basically a way of thanksgiving to almighty, for protecting the near and dear ones from unseen accidents, health problems and natural calamities.
Marryam Reshi, the famous food writer and critic, adds: "Taher is cleaved down the middle with its proponents preparing and distributing it in public as a thanksgiving for a favour received (finding a lost gold bangle, having a bad dream) and want to ward it off by distributing the haldi-stained rice with shallots (pran) or other such situations. Some schools of Islam strongly disagree with the practice, finding uncomfortable parallels with other Indic faiths. But the (increasing rare) sight of a krinjole of yellow rice being distributed on a roadside, outside a hospital, shrine or mosque still has the power to light up people's eyes."
Taheris distributed as small palm pressed yellow rice balls called tahari meitt in Kashmiri. It is the quintessential comfort meal in Kashmiri Pandit households. This is a simpler version of rice cooked with turmeric, with a tadka of mustard oil added to it. Traditionally taher is cooked as an offering to Zeshta Bhagwati in Zeathyar, the local deity on Thursdays. It is typically paired with spicy potatoes and/or paneer. One of the dishes it is served with is tcharvan aloo (lamb liver and potato gravy). Kashmiri Pandits cook taher on other occasions such as birthdays. After the religious ceremony, it is offered as bhog to the deity and then distributed as naveed (prasad).
Taher is always prepared in a Pandit household on family occasions such as birthdays. Traditionally, a priest would be called to perform a puja and preypun (traditional ceremony accompanied with religious hymns) at home. Taher plays a centre stage for the puja and preypun.
Taher in Kashmiri Muslim households is prepared with fried shallots. For Kashmiri Pandits onions are strictly prohibited. Taher is usually prepared in large quantities and is distributed mostly usually outside shrines, at market places or even outside their homes.
As regards the origin of taher in Kashmir, Dr Abdul Ahad says: "We cannot fix accurate date and time to the origin of taher in Kashmir. But the mention of cooked rice is found in Nilmatpurana,  Rajatarangni and other Sanskrit literature of Kashmir.   It is generally believed that the practice of serving cooked turmeric rice to Hindu priests and Buddhist bikhshus was in vogue in Kashmir and has, thus, become an inalienable part of Kashmir culture. It is distributed almost every day in downtown and countryside to ward off evil and misfortune. It is also said that taher was a favourite dish throughout Northern India and the term is a distorted version of the Sanskrit word tapahari which finds its place in Bhavapraja Sa Nighantu and Bhojanakutuhala ancient books."
While it is considered to be predominantly vegetarian, there are meat variations in Kashmir, Bangladesh and the Deccan region. Kashmiri Muslims prepare it usually with chicken. Bangladeshi tehri is traditionally made with beef. The Deccan variant too is cooked with meat.
In Sindh, this dish is cooked with sugar or jaggery, cardamom, fennel seeds, and dry fruits and the mild yellow colour comes from saffron, and not turmeric. This version is similar to zarda, a celebratory rice dish made in Uttar Pradesh (UP). Tehri is served on the Sindhi New Year, when it is offered as prasad. During langar, it is served with Sindhi stew made with lentils and green leafy vegetables or a dish of lotus stem and potato
Zarda is a traditional boiled sweet rice dish, made with saffron, milk and sugar and flavoured with cardamom, raisins, pistachios or almonds. The name zarda comes from Persian word zard, meaning yellow, which is the colour of the dish. Zarda is typically served after a meal. Zarda still remains a popular dessert on special occasions such as weddings. It is quite similar to sholezard, a traditional Iranian saffron rice pudding, and zerde, a traditional Turkish dessert. Sholezard is traditionally served on the occasion of festivals such as Ramazan. It is often vowed to cook it to achieve a wish and when it is achieved, it is distributed among others.
Zerde is a rice pudding, infused with a generous amount of saffron giving it a vibrant yellow hue and a delicate floral flavour. This dish is popular at weddings, births and during holy festivities such as the first Sunday of the month of Sha'aban celebrating the birth of Prophet Zakariyya, and the first ten days of the sacred month of Muharram.
Dating back to Mughal India, zarda had a variation with an addition of small fried sweetmeat pieces called mutanjan. This dish is said to have been a favourite of Emperor Shahjahan and was often made on his request.
The Assyrian people also prepare this dish (with the same name), typically made while fasting during Lent, thus prepared without dairy products.
Sweet yellow rice or saffron rice, that is zarda, (peele chawl as we say in Punjabi) is prepared at home on the occasion of Vaisakhi. My grandmother would also prepare this dish on my father's birthday every year and offer it as langar in the local gurudwara.
Halwa
The other very popular dish which has strong cultural and religious associations is halwa/ halva. It is made by continuously frying the ingredients in ghee till it all mixes up together and becomes semi solid paste.
The word halwa comes from the Arabic word hulw, which means sweet and is believed to have entered the English language between 1840 and 1850. As per Guzishta Lucknow a book by Abdul Halim Sharar, a 20th –century author, and historian, halwa originated in Arabic lands and came to India via Persia. The original Middle Eastern dessert was made from date paste and milk or from tahini.
As per findings by food historians, the first known recipe of halwa appeared in the 13th century Arabic text, Kitab al-Tabrikh (The book of dishes) written by Muhammad Ibn al-Hasan Ibn al-Karim. It mentions eight different varieties of halwa and their recipes. Also the two of the earliest cities of the sub-continent to have Arab influence were the coastal towns of Karachi and Kozhikode, and halwa forms an integral part of their food traditions.
In Feasts and Fasts, Colleen Taylor Sen writes that halwa arrived in India during the Delhi Sultanate from the early 13th to mid-16th century. As per some other legends, the method of cooking Halwa has its roots in the Ottoman Empire. Suleiman, the tenth was so fond of desserts that he had a separate kitchen for only sweet dishes, halwa being one of them.
In Turkey halwa is served on special occasions such as births, circumcisions, weddings and religious gatherings. The tradition is for semolina halva to be served at funerals, when someone leaves or returns from Hajj, and during Ramzan. On the 7th and 40th days and first anniversary following the death of a Muslim, the semolina or flour helva is offered to visitors by relatives of the deceased – it is known in Turkish as helva of the dead. The ritual is also performed in Afghanistan, Turkey, Iran.
In Iran, halwa usually refers to a related confection made from wheat flour and butter and flavoured with saffron and rose water. The final product has a yellow colour or brown colour. The halwa is spread thin on a plate till it dries into a paste. It is usually served at wedding celebrations, religious ceremonies and funerals. Halva Ardeh is the Iranian term for tahini-based halwa, and may or may not include whole pistachios. Ardeh is processed sesame in the form of paste, usually sweetened with syrup. Platters of halwa are served with a cake, a jelly pudding, and chicken in Iranian wedding celebrations.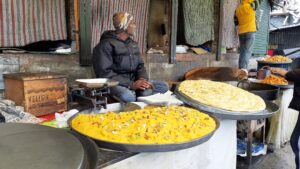 As mentioned in the The Bloomsbury Handbook of Indian Cuisine, halwa like dish made from semolina is mentioned in the 12th century Manasollasa (also known as Abhilashitartha Chintamani, is an early 12th-century Sanskrit text composed by the Chalukya king Someshvara III. It covers topics such as polity, governance, ethics, economics, astronomy, astrology, horticulture, perfumes, food, architecture, painting, poetry, dance and music) although it came to be associated with Muslims (Muslim sweetmakers are called halwai). Halwa is the most common sweet dish made across India. It is a popular dessert in many parts of India, and it is often served during festive occasions. It is said that this halwa is favourite dish of lord Vishnu, hence it is very sacred and is a must as a prasad in temples or any religious rituals. It has evolved in various forms in different parts of the country, and is made on various occasions such as Diwali, Ganesh Chaturthi, Ashtami, Navami etc.
In Sikhism, the distribution of karahprasad, a halwa of wheat flour, sugar, and clarified butter, in equal proportions and water in double the quantity, is customarily part of a worship service or of any special ceremony, such as an initiation, a wedding, or a funeral.
The typical north Indian halwa can be made from different types of flour, pulses, vegetables, fruit, and dry fruits. The basic recipe lists wheat flour (atta), ghee, and jaggery (gur) dissolved in milk among other optional ingredients such as cashew nuts, raisins, and a pinch of nutmeg or cardamom powder to enhance the flavour. Over the years atta was substituted with semolina (rawa) or refined flour (maida) and jaggery with sugar.
There are numerous types but the basic one is the sooji ka halwa(sheera/ rava sheera/ rava kesari/ kesari bhaat) made from ghee, semolina, sugar, milk (optional) and dry fruits. Other types include aloo ka halwa, dudhi ka halwa, walnut halwa, moong dal halwa, badam halwa, pumpkin halwa, carrot halwa & many more. Bombay Halwa is made from rawa. Sindhis make it from lapsi or dalia (broken wheat).
In Nepal, they make a sweet halwa from carrots and barley and a savoury one with, ghee, water, and salt. Sohan Halwa, once synonymous with Delhi, is similar to the chewy Karachi Halwa. Wheat germ or samnak halwa is the speciality of Awadh. Cholar dal halwa, made from gram dal, is popular in Bengal. Mohan bhog made from semolina, milk, and sugar. It is served with luchis (pooris) for breakfast. Moong dal halwa is a delicacy in the South. In Kerala, the Kozhikodan haluwa, from Kozhikode, is famous for its exotic taste. Karutha haluwa (black halwa), made from rice, is also very popular. Kashi Halwa, made from ash gourd, is a famous and traditional sweet in Karnataka, and mostly made at traditional Brahmin weddings. Another prominent South Indian version of halwa is aluwa from Tirunelveli of Tamil Nadu, which recently got the GI tag.
Halwa is also made of green and red chillies and various meats as in the Nawabi cuisine of Bhopal and UP which has ande ka halwa and mutton halwa. Bittu Meat Wala in Amritsar is known for its mutton, chicken and fish halwa.
Halwa-Paratha
The undeniably comforting combination of halwa-paratha is usually sold outside dargahs and at urs.
The accompanying paratha is a gigantic fried spread made with dough (that weighs almost 700 grams) and is rolled thin using bare hands, it is then poked with fingers. These holes prevent the paratha from puffing up, unlike the poori, when it is deep-fried in oil. The paratha is not entirely crisp, in fact, one-half of the paratha is deliberately kept softer, so that when you bite it doesn't really feel like a hard pastry. The paratha that is predominantly made of maida and ghee, is supposed to act as a base for the ghee-laden, vibrant halwa. This melt-in-your mouth halwa made with semolina or sooji is topped with tutti fruttis, dried cherries and dry fruits and is placed on the paratha before it is served fresh.
This dish is found in Shahjahanbad (Old Delhi) and outside the Nizamuddin Dargah. According to one story, the reason behind halwa-paratha being served around Nizamuddin Darga is Hazrat Nizamuddin's fondness for it. Born in Badayun (Uttar Pradesh) – the home to the deep fried parathas of the Paratha Wali Gali in Delhi – the scholar and Sufi saint developed a fondness for the combination of halwa and paratha, which continued through his life. Haji Baqir Ali Badayuni, the famous halwa paratha seller of Badayun was acknowledged by the late prime minister, Mrs Indira Gandhi. Stalls of halwa-paratha were a common sight during the annual urs of 19th-century Sufi saint Shah Ji Mohammad Sher Miyan which took place in the small city of Uttar Pradesh, Pilibhit. Badayun is another small city of Uttar Pradesh located one hundred twenty-eight kilometres south-west of Pilibhit. It was once the mighty capital of Katehar province during the reign of Mamluks and also the birthplace of the famous 13th-century Sufi of Central Asian origin, Hazrat Nizamuddin Auliya. In the sixties and the seventies, the Badayuni halwa–paratha was a popular street food stall at Urs of Hazrat Nizamuddin and Hajj house near Turkman Gate at Delhi.
According to another story, the association of halwa-paratha with Sufism began in Kashmir where sooji halwa was rolled into a bakarkhani roti and given to those visiting the dargah as part of the blessings and was also the main highlight of the festivals, including urs. In fact some believe it is inspired from the bakarkhani roll while others believe the origin to be the Lahori Katlama. It is believed that a meal of halwa-paratha can keep you satiated for the entire day,  and thus allowing focus on the path of spirituality – a reason why, perhaps, even in Vedas poori-halwa has been listed as the finest vrat ka khana.
However, Marryam Reshi doesn't think that it originated in Kashmir. She explains: "Halwa-paratha probably does not have its origins in the Valley. As many caterers come from UP and put up itinerant stalls at various shrines on their annual urs as Kashmiris do at permanent places, notably shrines that have land around it. Hazratbal does. Many shrines in the Old City don't. But roads and inner lanes are commandeered for a week at a time for halwa-paratha makers and sellers, without a fuss from the residents, because, after all, who doesn't like a bite of paratha with their afternoon cup of noon chai! And which small child doesn't gleam at a plate piled with greasy halwa!?"
In Kashmir, I first saw it being sold outside Makhdoom Sahib and Hazratbal and later near Aishmuqam and Baba Shakur Din Shrine, near Sopore.  Many of the shops/ stalls selling the halwa–paratha have non-locals making the large parathas.
There is a third theory of its origin as well: the now forgotten akhada. The calorie rich diet of halwa and parathas were a part of the satvik diet of the pahalwans. Many say that halwa-paratha was part of the early diet of the legendary Great Gama – the only pahalwan who remained undefeated in his career spanning two decades.
Fascinatingly, the halwa-paratha diet was one of the perks that a pahalwan would get as part of his award if he won the kings heart. One emperor to advocate this tradition was Humayun, who gave land and patronage to many pahalwans from Bijapur and areas around to establish akhadas in the North. Such was the love for this gourmet treat that it even travelled to Aligarh, where it became part of the 190-year-old festival called Numaish, an event started by Raja Harinarayan Singh as a horse fair for Nawabs. Even today, the halwa-paratha is one of the biggest culinary draws of the festival.
Another festival that promoted this dish was the Fatehpur Art festival. Meerut too played a role in promoting it after the decline of the Mughals, when it became the centre of sweet makers.
Halwa occupies some part of our memory and consciousness and it has something in it for everyone. It is the soulfulness that often connects these delicacies to the people with their communities, religions and the cultural traditions.
Jaspreet Kaur is a Delhi-based architect, urban designer, Trustee Lymewoods & Span Foundation and Consulting Editor of Kashmir Newsline.