Although the café is known for its quality and delectability across delicacies, the aromatic, succulent kebab remains its pièce de résistance.
 Farooq Shah
There are kebabs, and then there's the Kashmiri kebab – uniquely different in taste, texture and the lingering aftertaste that it leaves you with. No gathering in Kashmir is complete without the mouth-watering kebab and as one of the seven authentic elements of the traditional wazwan cuisine, it garnishes the platter, known as traem, like no other dish. A restaurant menu in Kashmir is considered incomplete if it doesn't have kebab on it. Almost every single restaurant in Kashmir offers kebab, but the one served by Linz Café is the brand leader, ranking head and shoulders above the rest in every aspect that comprises the mystique of the Kashmiri kebab. Although Linz is known for its quality and delectability across delicacies, the aromatic, succulent kebab remains its pièce de résistance.
Abutting the historic Sher-e-Kashmir Park near the posh Polo View area of Srinagar under the shadows of Chinar, Linz was established in 1975.
The Srinagar city has always been a melting pot of diverse cultures and its cuisine has earned accolades from foodies the world over. Apart from social events, it's the eateries like Linz Café that have contributed to the global reputation of the Kashmiri cuisine.
The café has earned a reputation for the quality it offers, earning widespread appreciation from food lovers. Banking upon its reputation and the popularity of its kebabs, Linz Café recently opened another joint at Barzulla in Srinagar.
Linz has perfected the kebab recipe believed to have originated from Turkey, adding its own unique twist to the dish. The kebabs are made from high-quality meat and the spices used are carefully selected to give it a distinct flavor. The preparation process is done meticulously to ensure that the gastronomic delight is cooked to perfection.
The new Linz eatery in Srinagar offers a cozy ambiance with a comfortable, spacious seating arrangement, making it a perfect place to hang out over a delicious meal with friends and family. The café has a team of skilled chefs committed to providing a rich dining experience.
Linz kebabs have received rave reviews from food critics and enthusiasts and the café has been a favourite destination of food lovers over four decades.
Sheikh Farooq, who co-owns the café with his brothers, says Linz is a treasured family legacy.
"The mission is to expand globally and provide food as an alternative medicine, generating job opportunities and a positive social impact," says a jubilant Farooq.
Farooq and his brothers are firm believers in quality. "Our entire business philosophy is based on offering high-quality products, which we believe is essential for progress," he says. "Our food is made with pure ingredients and we strive to provide an alternative medicine to our customers besides titillating their taste buds with the most delicious preparations on our menu."
Farooq takes great pride in what he considers the "crowning glory" of all the Linz Café recipes – the kebab – and challenges anyone to find its match anywhere in the country.
"We take great pride in our kebab, and what sets it apart is our unwavering commitment to quality," says Farooq as his eyes glint with pride. Linz kebab has travelled around the world courtesy of  the Kashmiri diaspora. For Farooq and his brothers, Sheikh Parvez and Sheikh Wazir, preservatives are a big no-n0.
"Preservatives have no role in our delicacies and we ensure our customers are treated to fresh, organically flavourful and healthy treats," says Parvez.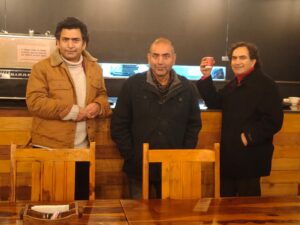 "Our dedicated quality control team," he says, "monitors every aspect of the raw material from the quality spices to the premium mutton and everything in between."
As for the dairy ingredients, Linz has its own farmhouse. "All of our dairy products come straight from our own farmhouse, ensuring that only the highest quality ingredients make their way into our kitchen," says Farooq.
Strictly prohibiting the use of preservatives, artificial flavours and additives, Linz uses an array of natural spices and herbs to set their kebab and other treats apart.
"The health of our customers is our topmost priority, and we are not willing to compromise on that," says Farooq.
Maintaining a high level of hygiene is a crucial component of producing quality food at Linz. "Hygiene is paramount to us. We ensure that every nook and cranny is scrubbed to perfection," says Farooq reassuringly. "You can rest assured that when you dine with us, you're not just savouring delicious food, but are having it at a hygienic and clean ambience, and you can see that."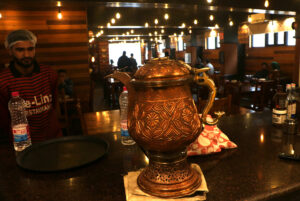 Farooq says the aim behind expanding the business is to provide more jobs to the youngsters during rising unemployment apart from earning profits.
"We aim to open multiple branches to fulfill our goal of creating a significant social impact and job opportunities," he says. "We believe that even a small effort can make a big difference in people's lives."
Linz Café's new joint in Srinagar is a welcome addition to the city's food scene. The café's reputation for its food quality, appreciation from food lovers, and unique kebabs makes it a must-visit place for anyone looking for an authentic culinary experience. Linz Café's commitment to providing the best possible dining experience is reflects in the care and precision put into the preparation of its dishes.
Farooq Shah is a Srinagar-based senior journalist.