Jaspreet Kaur
Ask Kashmiris what they had for lunch or dinner, the answer is always batte – rice – whatever the accompanying dish. That is perhaps why the popular food street of Srinagar is known as Batte Galli.
The Food Street, located at Lal Chowk, was started by the Jammu & Kashmir Tourism in the 1960s. It has since been the go-to destination for clean and affordable food that includes non-vegetarian, vegetarian, especially the Kashmiri haakh, cheese, pickles and dals. A plate of vegetables with rice is served at Rs 50 and the meat dishes at Rs 100 0nwards. The affordable menu with a variety of dishes including Kashmiri wazwan would invite both locals as well tourists.
The food street remains busy through the day, with some eateries serving on an average 300 people a day. These include people of low to middle income groups and of all ages. It is also popular for Kashmiri tea – nunchai – served with local breads.
However, over the years, the street requiring repair and renovation is in shambles. There have been no further initiatives taken by the government for improving the infrastructure of the street. Even the street lights are not working. Many also attribute the decline to the relocation of the nearby bus terminal to outskirts of Srinagar. With a sharp decrease in footfall, many have closed down their shops. Out of the total of about 19 shops, only12 remain. Many are not hopeful of the street surviving in the future. Once packed with customers, the eateries now have to compete to invite customers.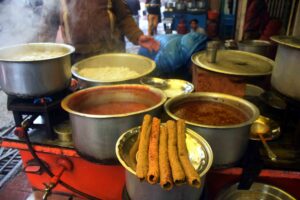 Small repairs are done by the shop owners themselves, despite requests to the local municipal bodies. The struggling shop owners believe that if the situation continues to be like this, they would not be able to sustain more, resulting in closure.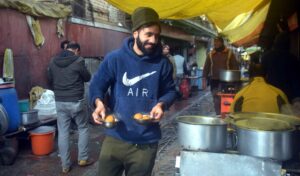 Food is an absolutely vital part of the travel experience. The key to understanding a place's culture and history often lies in its cuisine. In order to find the best food at any place, one needs to take to the streets. The best local cuisine is made by a local on the street rather than a big-name chain or an up-market restaurant. Batte Galli has the potential to become the food street of Srinagar where locals and tourists can find the best and affordable street food. Along with other food streets such as Khayyam Chowk, famous for its barbecued meats – tuj – it can become an important tourist destination.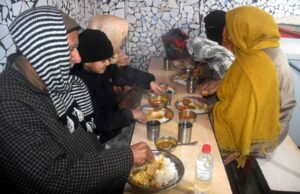 Jaspreet Kaur is a Delhi-based architect, urban designer, Trustee Lymewoods & Span Foundation and Consulting Editor of Kashmir Newsline.