The breathtakingly beautiful global skiing destination is battling encroachment, haphazard construction, deforestation and pollution, among others.
 Jaspreet Kaur
After climbing higher and higher
Was reached a plain smooth space
Rain dropping over velvet grass
Pleasant coolness in attendance
Shrivelling heat and enthralling engagements gone
Reaching those heights a cool quietness was attained
Which cools the mind unites and mystifies it
That supreme calmness prevails here!
 ~ Bhai Vir Singh, Gulmarg
 Bhai Vir Singh wrote poems on Kashmir, over a span of many years starting 1922 when he first visited the valley. From then on, he returned to Kashmir every summer to capture its virgin beauty in thoughts and words.
The title of the anthology—A Valley Nonpareil—is a literal translation of Bhai Vir Singh's famous poem describing Kashmir as tukdi jag ton niari. One of the poems in the anthology is Gulmarg.
 My first visit to Gulmarg was in the chillai kalan—the 40-day coldest part of winter in Kashmir— of 2019, which was also my first real experience of snow. The sunshine, clear blue skies and the snowy white spread made it a delightful experience. I had to go back there again, but then came the pandemic, followed by the post-pandemic rush. Gulmarg was crowded in January of 2022. Our taxi took a good one hour to reach the hotel from the time we entered Gulmarg. Manoeuvring in snow is a tough ask for the drivers, especially for the ones who are not very familiar with tourist destination. The result is chaotic traffic, loud honking and slush on the roads.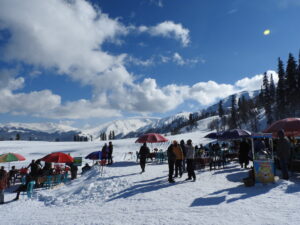 (Tourists having some relaxed moments at the eateries at Phase 1. Image: Jaspreet Kaur)
Gulmarg has around 40 hotels ranging from extremely budget accommodation in private huts to five star hotels. For this winter hotels have been booked three months in advance. Tourism department in Kashmir has planned a series of weeklong events and programmes in Gulmarg to celebrate the festival of Christmas and new year. Gulmarg has been illuminated during the weeklong celebrations, musical, cultural and various other winter related sports activities have been aligned, along with the Christmas celebrations on December 25 in Gulmarg.
The place gets packed for these events. According to the official data, more than two million tourists visited the valley till the end of November in 2022. Hoteliers at the ski-resort said that all hotels in Gulmarg are packed as of now and bookings have been completed for even January and February as well.
Festival celebrations are being planned not only at Gulmarg and Pahalgam but also at offbeat destinations like Doodpathri and Yousmarg. In future, there are proposals to explore LoC tourism as well in far off places like Gurez, Teetwal, Uri, Karnah and Lolab. Helicopter services for Gurez and Karnah are already operational.
Data from the Jammu and Kashmir Tourism Department and the Union Tourism Ministry suggests that the number of tourists between January and May 15 of 2022 jumped to 700,000, over four times the 125,000 figure witnessed during the same period last year. With increased demand, hotel rates in the valley are up anywhere between 30 – 100 per cent. Post-pandemic travel restrictions have led to travellers opting for outdoor and adventure experiences. These include: mountain biking, paragliding, hot air balloon rides, river rafting and camping. The state's tourism initiatives, such as gondola and shikara rides have become major tourist attractions. Trekking routes, which include Gangabal Lake trek, Kashmir Alpine Lake trek, Kolahoi Base Camp trek, etc , are some of the segments that are regaining their popularity.
History
Gulmarg is a town, hill station and a popular skiing destination. It is located at a distance of 31 km from Baramulla and 49 km from Srinagar. The town is accessible from Srinagar by road via Tangmarg. The road climbs uphill in the last 12 kilometres passing through forests of pine and fir.
The town is situated in the Western Himalayas and lies within the boundaries of Gulmarg Wildlife Sanctuary. Gulmarg lies in a cup-shaped valley in the Pir Panjal Range of the Himalayas at an altitude of 2,650 m (8,694 ft). The soil in Gulmarg comprises glacial deposits, lacustrine deposits and moraines of Pleistocene age covering shales, limestones, sandstones, schists and other varieties of rocks. The natural meadows of Gulmarg, which are covered with snow in winter, allow the growth of wild flowers such as daisies, forget-me-nots and buttercups during spring and summer. The meadows are interspersed by enclosed parks and small lakes and surrounded by forests of green pine and fir. Skiing and other winter sports in Gulmarg are carried out on the slopes of Apharwat peak at a height of 4,267 m (13,999 ft). Many points on Apharwat peak and Khilanmarg offer a panoramic view of Nanga Parbat and Harmukh mountains.
'Gul-marg' (Gulmarag/ Gulmarɨg: 'meadow of flowers'/ 'margay gul' in Kashmiri) by some is claimed to have been originally called Gauri Marg (meaning 'the path of Devi Gauri'), and was changed to 'Gulmarg' in the 1500s by Yousuf Shah of the Chak dynasty, who ruled Kashmir from 1579 to 1586 CE. 'Gulmarg' is now interpreted as 'meadow of flowers'. Chak frequented the place with his queen Habba Khatoon. Wild flowers of 21 different varieties were collected by the Mughal emperor Jahangir for his gardens in Gulmarg.
However, as pointed out by MJ Aslam in his book Kashmir: From Ancient to Present, Gulmarg is derived from Gori-Marg or Gur-Marg/ Gurjar-Marg after the milkmen and/or shepherds, cowherds and their meadow. Bakerwals and Gujars frequent Gulmarg in summer to herd their cattle, sheep and ponies.
Houses of the Bakerwal, commonly known as kotha/ bunker/ shepherd houses or tribal huts, constructed of mud and pine wood, can still be seen on the lower reaches of the mountain slopes. The shepherds graze their cattle on the slopes in summer and move to the plains (Jammu & Punjab) in winter. I had seen many such groups in Batala, Punjab. I was told that most have settled permanently there and are now the main cattlemen.
Another explanation is that the term marg comes from Skr. Mathika: as a small stone or wooden shelter at passes. In ancient Kashmir, these were believed to be the shelters for local gods saving people from blizzards and high winds. A tradition seeped into modern times too with small wooden shrines surviving around high passes.
Gulmarg came to be known as a summer hill station around 1858-1860 when it was brought on the world map by the British geologist and topographer, Godwin Austen. In the 19th century, British civil servants started using Gulmarg as a retreat to escape summers in North Indian plains. Hunting and golfing were their favourite pastime and three golf courses were established in Gulmarg including one exclusively for women. One of the golf courses survives and at an altitude of 2,650 metres (8,690 ft) is one of the world's highest golf courses. In 1927, British established a ski club in Gulmarg and two annual ski events were hosted – one each during Christmas and Easter. Central Asian explorer Aurel Stein also visited Gulmarg during this period. The Himalayan Club of Mountaineers built the Ski hut in Khilanmarg in 1932. After WWII, Gulmarg was formally introduced as a skiing centre in collaboration with the Ski Club of the British Central Government of India.
Global Skiing Destination
After the Indian Independence, a destination for winter sports in India was planned. The Department of Tourism of the Government of India invited Rudolph Matt in 1960 to select a suitable location for such purpose. Matt zeroed in on Gulmarg as the location for the development of a winter sports destination. In 1968, the Institute of Skiing and Mountaineering was established in Gulmarg to train ski instructors. Over the next decade, Rs. 30 million (US$380,000) was invested to transform Gulmarg into a world-class ski destination. It became a centre for skiers from around the world. In mid-1980s, heli-skiing was introduced in collaboration with the Swiss skier Sylvain Saudan of Himalaya Heli-Ski Club of France.
Work on the cable car project between Gulmarg and Apharwat Peak, which was commissioned in 1988 by Government of Jammu and Kashmir but was subsequently abandoned due to militancy in 1990, was resumed in 1998. In May 1998, Phase 1 of the project, between Gulmarg and Kongdori, began its commercial operation. In May 2005, Phase 2 of the project was also inaugurated, making it one of the longest and highest ropeways of Asia. Phase 2 offers brilliant views of the Nanga Parbat range. The chairlift installed as a part of Phase 3 of the project began its operations in 2011. The National Winter Games were held in Gulmarg in 1998, 2004 and 2008.
Gulmarg is the main skiing resort for the adventure lovers. According to CNN, Gulmarg is the "heartland of winter sports in India" and was rated as Asia's seventh best ski destination.
The skis, sticks, snow boots, woollen socks, mufflers, windproof jackets, goggles, caps, and various other equipment, and the Ski instructors are easily available at Gulmarg. The best season for skiing is from November (if snowfall is early) to February.
The slopes in Gulmarg vary between 8,700 and 10,500 feet. Apharwat Peak, at 13500 feet high, lies close to the Line of Control (LOC) with Pakistan. Apharwat slopes are the longest and the highest ski slopes of Asia and are a destination of ski enthusiasts from all over the world. To transport the visitors to the top, there is a cable car service called Gondola which operates in two levels. Built by French company Pomagalski, the Gulmarg Gondola is one of the highest in the world reaching 3,979 metres. A thirty-minute walk will take one to the actual peak. Skiing on the snow slopes is possible in north-west and southeast directions. For the less adventurous ones, slopes from level one are gentler. There is a facility for horse riding around Lake Alpather.
The first stage transfers from Gulmarg at 2,600 metres (8,500 ft) to Kongdoori (Phase 1) at 3,080 metres (10,100 ft). The second stage which has 36 cabins and 18 towers, takes passengers to the Apharwat Peak (Phase 2) 4,200 metres (13,800 ft). A chair lift system connects Kongdoori with Mary's shoulder for taking skiers to higher altitudes. The Gondola lifts through 1330 m height and covers nearly 5 km distance, ferrying about 600 people per hour.  The skiing area consists of the gondola terrain, lower tree skiing areas and the poma terrain in the town.
The resort also houses elite High Altitude Warfare School (HAWS) of the army which imparts training to soldiers across the globe in high altitude warfare. Apart from skiing, snowboarding, tobogganing, snow scooters and snow bobbing are popular activities seen here. Pony rides and blooming flowers have made Gulmarg a summer destination too, when it is truly a meadow of flowers.
Golf Course in Gulmarg, situated at a height of 2,650 m above sea level, is the highest green golf course in the world. This 18-hole golf course is completely managed by the Jammu and Kashmir Tourism Development Corporation. Temporary membership, even for one day, is available at the club for the golfers. Gulmarg golf course, counted among the most beautiful golf courses in India, is composed of both slopes and inclines. This golf club was started by the British who used Gulmarg as a holiday resort. In 1904, this golf course was opened to the golf lovers. In 1922, first Golf Championship was organised here.
Tourism and Environment
Khilanmarg is situated at a distance of 4 km from the Gulmarg bus stop. Tourists can easily reach by walking across the meadows of the valley. Surrounded by mountains on all sides, the valley is scattered with wild flowers in the spring season. Tourists can enjoy the panoramic views of the Nanga Parbat, the Himalayas and the twin peaks of Nun and Kun. Several scenic tourist spots are located in proximity to Khilanmarg.
   ( New brick and concrete constructions are posing a serious threat to the ecologically fragile Gulmarg.                Image: Jaspreet Kaur)
Surrounded by Jhelum Valley Forest Division (Baramulla) in North and forest division of Poonch and Pir-Panchal in South, the Gulmarg Wildlife Sanctuary was designated as a wildlife sanctuary on March 14, 1987.
The protected area is an abode of rich faunal and floral biodiversity with varied species like endemic Himalayan musk deer, leopard , Asiatic black bear, Himalayan brown bear, red fox , Himalayan snow cock , Kashmir flying squirrel , Himalayan marmot , Kashmir vampire , Himalayan Langur , Himalayan monal and Chakoor among others.
Imambara Goom, Alpather Lake, St Mary's Church, Gulmarg Biosphere Reserve, Baba Reshi Shrine are other interesting sites in this region. The Maharani Temple (commonly known as Shiv Temple of Gulmarg) was built by Maharaja Hari Singh for his wife Maharani Mohini Bai Sisodia who ruled till 1915. This temple was considered as the stately possession of Dogra kings and is visible from all corners of Gulmarg.
The 8700 sq.ft Maharaja Palace at Gulmarg was built by Maharaja Hari Singh in the early 19th century.
The St. Mary's Church is located in the valley of Shepherds in Gulmarg. It was built in 1902 during the British rule. Made of grey brick with a green roof and decorated wooden interior walls, it has been described as a 'Victorian architectural wonder'. St Mary's was closed for years but was renovated and reopened in 2003, holding its first Christmas service there for 14 years. The church belongs to the Diocese of Amritsar, Church of North India.
A recent attraction is the Igloo Cafe. The first snow Igloo Cafe in Kashmir has been built by Wasim Shah, the owner of a hotel in Gulmarg called Kolahoi Ski Resort. The Igloo Cafe is built completely of snow. With a height of 37.5 feet and a diameter of 44.5 feet, it is claimed to be the world's largest cafe of its kind.
However, with the increase in tourism, as in most other places, the infrastructure development has not caught up. The high inflow of tourists has had an effect on the fragile eco-system of Gulmarg and activists have demanded tighter regulation to save the environment from over-tourism. There is an evident lack of proper planning for tourism management and disregard for Kashmir's ecological resources.
The Valley has seen an increase in number of tourists especially during the pandemic years as outbound tourism declined considerably.
Srinagar, Gulmarg, Pahalgam and Sonamarg – the commercial circuit of the Valley – are playing a key role in attracting tourists throughout the year. Travel agents offer package tours of 2-3 days for anytime of the year.
Kashmir hosted over 2.5 lakh tourists in only two months of November and December, running most high-end hotels in tourist hotspots of Gulmarg and Pahalgam full. Compared to 4.1 lakh tourist footfall last year in the midst of the pandemic spell, Kashmir has crossed the six-lakh mark already this year as the foreign shores continue to remain out of bounds. Hotels in Gulmarg are sold out till March end. In Gulmarg, which received fresh snowfall around Christmas last year, the ski slopes were packed with domestic tourists.
However, this kind of mass tourism comes with problems as it wreaks havoc on the local environment. Increase in number of tourists implies more vehicles. There are several points of traffic jams due to difficult snow terrain and several vehicles at narrow junctions. The stretch, beginning at Raja Hotel and ending at Rosewood Hotel, with maximum number of hotels has a traffic jam all day long due to check-ins and check-outs.
The increasing number of snow bikes, snow scooters and ATV cars are also posing a grave threat to the environment. The snow scooters, bikes and ATV cars run on petrol and the smoke emanating poses threat to the ecology. In past few years, Gulmarg has received less snowfall compared to what it used to receive and the local tourism stakeholders partly blame it on the smoke oozing from these bikes and cars. There is of course the noise pollution too.
There are nearly 100 snow scooters, snow bikes and ATV cars at present plying in Gulmarg and, as per the stakeholders, they are proving disastrous for the ecology, next to the rampant constructions. These are attractive options for tourists, especially those who do not seek hard adventure. ATV also offers an alternative travel mode specially to reach places otherwise difficult during peak snow seasons, however, either numbers have to be controlled and/or sustainable alternative ways of operating these have to be used. These have also taken over the earnings of the sledge drivers who sometimes don't earn for over two days despite Gulmarg being full to capacity.
Besides these, the biggest source of pollution are the army vehicles. When an army convoy moves through Gulmarg, the entire stretch is covered with toxic fumes.
Due to unprecedented flow of tourist, the Chief Executive Officer, Gulmarg Development Authority, urged the Director School Education (Kashmir) to ask educational institutions in the valley to avoid making any plan for excursions or picnics to the skiing resort on weekends.
Organized by Jammu and Kashmir Hoteliers Club, Gulmarg Chapter, in collaboration with the Jammu and Kashmir forest department, tourism department and J&K Police, a plantation drive of three lakh trees in Gulmarg and Tangmarg areas in the ski resort was started in 2017. I haven't come across any update on this drive and am not sure how many were actually planted.
What I did notice, though, was that trees around all hotels in Gulmarg were drying and had no foliage. This was perhaps due to construction activity and waste disposal. I was also told that thousands of pine trees around the hotels in Gulmarg bowl have dried up as the hoteliers are using chemicals, girdling and debarking to clear the pine trees for land grab and illegal construction. Besides this, the hazardous waste also destroys forests in Gulmarg as the waste disposal from hotels is not done scientifically in the environmentally fragile zone. The CCTV cameras installed in Tangmarg and Gulmarg to monitor the ferrying of construction material into Gulmarg bowl are defunct.
Spread over 15,949 kanals and 13 marlas, including 2,435 kanals of the built-up area, the Gulmarg tourist resort has witnessed vandalism by people with political clout. As per the documents, around 123 kanals and 2 marlas of land have been leased out by the state government to different hoteliers and hut owners in the past several decades.
However, instead of 123 kanals and 2 marlas of the leased out land, 252 kanals and 7 marlas of land has been grabbed by the hoteliers.
Another concern among the locals here is the concrete construction carried out by forces in the area. As per GDA authorities over 200 Kanals of land has been encroached upon by the forces and, at various places, the concrete construction carried bout y the forces is in violation of the set rules.
In January 2022, nearly 70 hectares of land in Gulmarg and Sonamarg tourist resorts have been declared by the Jammu & Kashmir Government as 'strategic areas'. The latest move has paved the way for the Indian Army to take control of these land patches now. As per the order issued in Jammu on December 31, 2021 by the Department of Tourism in Jammu & Kashmir, 1,034 kanals (approx. 53 hectares) of the land at the famous ski-resort of Gulmarg in Baramulla district and 354 (approx. 18 hectares) kanals in Sonmarg, were declared as the 'strategic areas' for the use of armed forces in the region.
The administrative council which is headed by the Lieutenant Governor of Jammu & Kashmir gave its approval to the Control of Building Operations Act 1988 and the J&K Development Act, 1970 in order to provide for the special dispensation to carry out constriction activities in the 'strategic areas'.
According to the amendment, the Indian armed forces will be able to undertake infrastructure development even in the ecologically fragile areas that are declared as 'strategic areas' by the government.
Then there is the issue of irresponsible tourism. The negative environmental impacts of tourism are substantial. They include the depletion of local natural resources as well as pollution and waste problems. Tourism often puts pressure on natural resources through over-consumption, often in places where resources are already scarce.
Tourism puts enormous stress on local land use, and can lead to soil erosion, increased pollution, natural habitat loss, and more pressure on endangered species. These effects can gradually destroy the environmental resources on which tourism itself depends.
Solid Waste Management
Municipal Solid Waste (MSW) generation varies depending on the level of urbanization, remoteness, volume of tourism and income level of households in the mountain settlements. Biodegradable waste makes up a large fraction of mixed waste from sources such as households, markets and hotels. Plastic is the main constituent of mixed waste in tourist hotspots.
Accessibility is a key challenge due to difficult terrain, remoteness and harsh climate and door-to-door waste collection is available to few households.  Despite collection services being available in certain localities, waste is still disposed of indiscriminately in drains, ravines, valleys, streams or rivers, and open burning of waste is a common practice.
Households, and even the hospitality sector, consider waste management as intrinsic to environment health but there is a lack of awareness on current disposal practices and most are unconcerned about disposal methods.
The famous tourist places particularly Gulmarg, Pahalgam, Sonamarg, Doodhpathri etc. are not free from polythene and plastic wastes. There has been unabated use of polythene in the Kashmir valley. Several tonnes of polythene and plastic waste are being dumped into rivers, wetlands, irrigation canals, springs, drains, agricultural fields, playgrounds, gardens, forest lands and public parks. This has choked many water bodies, particularly wetlands, irrigation canals, streams and springs, leading to water and land pollution. While Gulmarg is declared a no-polythene zone, there is the usual littering of plastic bottles, food wrappers etc.
The sewage stench near a few hotels is a result of open or choked drains. Tourism has revived in the Kashmir but a lack of planning, haphazard construction and no use of waste treatment systems are a threat to the mountain resorts of Sonamarg, Pahalgam and Gulmarg.
Despite being an eco-sensitive place, there is no garbage disposal mechanism in Gulmarg and tonnes of waste produced from hotels and restaurants along with other garbage including polythene, plastic bottles etc is being disposed in the open in forest area of the resort.
The open disposal of the waste in the forest area is happening despite the authorities having procured solid waste disposal plant worth crores of rupees, which is lying defunct at Tangmarg and has not been utilised since its purchase.
As of 2016, Gulmarg produced around 150 tonnes of garbage a month (increasing over the years due to tourist influx) and presence of waste outside the treatment plant has resulted in a foul stink. To treat the waste, a waste treatment plant was established with a capacity to process 2-metric tons of biodegradable and 1-metric tonne of non-biodegradable waste in a day.
The plant has been rendered ineffective due to official apathy. In September 2017, 136 truckloads of waste were taken to Achen dumping site in Srinagar for disposal, after High Court rapped the authorities for disposing of the waste in the forests.
The Gulmarg Development Authority has now signed an agreement with the Tangmarg municipality to make the plant fully functional, which includes the treatment of the bio-degradable and non-biodegradable solid waste.
Most resorts in Gulmarg do not have Sewerage treatment plants (STPs) and therefore discharge into various water bodies. The high court, in 2014, had observed that the hotels across J&K do not follow the policy of State Pollution Control Board (SPCB). The policy is framed under the Water (Prevention and control of Pollution) Act, 1974 act no. 6 of 1974 [23rd March, 1974.] The Act asks for, "the prevention and control of water pollution and the maintaining or restoring of wholesomeness of water, for the establishment, with a view to different purposes."
The policy says that the hotel which has more than twenty rooms should have an individual STP in operation.
Decentralized STP is a cost-effective solution and the treated waste water can be used for various non-potable activities such as gardening, horticulture, construction etc.
The usual drainage system present in the existing hotels is of soak-pit and septic tanks. Provision of STP incurs a cost of at least 10-20 lakhs from the hotelier apart from the maintenance. In addition, the regions climatic conditions are not entirely feasible for the STP. It needs a constant temperature of 20 degree Celsius to work effectively for which a protected environment is needed,with the use of thermoregulators. This is an additional cost. Also, even if the hotel treats its sewage water properly, it still has to mix with the general drain water of the area, unless each hotel works out a system of recycling and reuse of water.
However, such systems would require a regular and controlled inflow of tourists for installation and maintenance. Conflict, constant lockdowns and the pandemic have adversely affected tourism in the region in the past few years. A sudden exponential increase in numbers can also lead to problems with waste management.
Mountains play an essential role in supplying water, energy, food and other services to millions of people living in the mountains and downstream. Ensuring the continued supply of these services has never been more important. However, many mountain regions are experiencing a growing solid waste problem, from ever-expanding urban sprawls and cities, increasing consumption patterns, existing and past mining operations, tourism activities and practices of illegal dumping. Steepness, remoteness, prevailing socio-economic conditions, and vulnerability to natural hazards, makes waste management in mountains more challenging than in lowland and mainland areas. The growth in tourists visiting popular mountain regions and the accompanying waste issues can be staggering, as evident from the images of waste accumulation at Mount Everest.  The Amarnath trip this year, as in previous years, left a trail of waste. The inadequate treatment or disposal of waste in mountains not only creates risks for ecosystems and human health in mountain regions, but also for downstream areas. Gravity and river flow can enlarge the footprint of mountain waste to a thousand kilometres or more downstream.
In popular mountain tourist areas, data on visitor numbers, length of stay and activities, combined with the experience and observations of local communities, are important for managing and anticipating waste removal and disposal requirements. Risk assessments of waste management in mountain areas are also needed. This includes the potential risk for downstream areas from both large and small-scale dumping (whether legal or illegal) and industrial waste.
It is important to build awareness at all levels of the large potential downstream impacts and global nature of certain waste streams in mountain environments and the threats posed to human health. The focus should be on people living in mountain communities and those who visit mountains on a temporary basis, such as tourists. This should start with promoting sustainable consumption through 3 R's: reduce, reuse and recycle.
Options include promoting community based, alternative options to landfills for organic wastes and waste collection centres to promote the collection and sorting of non-organic recyclables. Communities should consider working together to create shared collection centres in order to accumulate a greater volume of recyclables that can then be sold. New landfills should be sited in areas that minimise the potential for runoff that can contaminate important water sources. Existing landfills that pose risks should be relocated where possible for the same reasons. Following the waste hierarchy where waste cannot be reused or recycled due to technical, economic or environmental limitations, systems that convert municipal waste to energy (WtE) should also be explored as alternatives for or as means of reducing waste to landfilling, such as use of biodigesters.
These are eco-friendly and will reduce a facility's carbon footprint significantly. Food scraps and other organic materials decaying in landfills release methane and carbon dioxide contributing to climate change. A biodigester is a system that biologically digests organic material, either anaerobic (without oxygen ) or aerobically (with oxygen). Microbes and other bacteria break down organic materials in a biodigester. Most food, including fat, greases, and even animal manure, can be processed in a biodigester. It is an easy to maintain closed system. Also, eliminating food waste on the site saves money by reducing hauling costs.
Tools such as sustainable tourism ecolabels and guidelines should be considered to drive innovation and best practices on reducing waste and greening the tourism sector in mountains.
Private contractors and companies, whether in tourism, mining, construction or other sectors, should be made responsible for managing the wastes generated through their activities. Enforcement should be ensured through legal contracts. Corporate social responsibility should also be encouraged.
Disaster waste management plans should be prepared before they are needed, to facilitate effective use of scarce resources, both during and after extreme events.
Eco-Sensitive Zone
Unabated construction and the resultant waste is also a matter of concern. In February of 2021, Jammu and Kashmir High Court banned all types of construction in Gulmarg. Hearing a Public Interest Litigation, a bench of Justices also banned cutting down of any trees in Gulmarg.
The Union Ministry of Forests, Environment and Climate Change unveiled a proposal to declare 62.2 square kilometres around the boundary of Gulmarg Wildlife Sanctuary as eco-sensitive zone (ESZ) in June 2021. This was finally carried out in May 2022.
According to the proposal, the eco-sensitive zone shall be of 62.2 square kilometers with an extent of zero (0) to 4.1 kilometers around the boundary of Gulmarg Wildlife Sanctuary. As per the notification, the 'zero' extent of eco-sensitive zone in some directions is proposed as the areas have tourist potential and the population living around the Gulmarg Wildlife Sanctuary mainly are dependent on tourist activities.
The area harbours viable population of the endangered and endemic Himalayan musk deer besides other faunal species. It is also rich in a number of rare and variety of flora with great economic, genetic and medicinal value. According to the notification, the zonal master plan for the eco-sensitive zone shall be prepared by the government of J&K within a period of two years.
The notification states that all new and existing mining (minor and major minerals), stone quarrying and crushing units shall be prohibited with immediate effect. It prohibits setting up of new industries and expansion of existing polluting industries in the eco-sensitive zone. It also prohibits establishment of major hydroelectric projects in the ESZ.
There is also a blanket ban on new commercial construction of any kind within one kilometer from the boundary of the protected area or up to extent of the eco-sensitive zone whichever is nearer, except for small temporary structures for eco-tourism activities.
The 'zero' extent of eco-sensitive zone is proposed towards eastern side as it adjoins the Ferozpura watershed comprising Gulmarg wildlife sanctuary which is bifurcated geographically by geological features like high mountains, peaks and glaciers. The eco-sensitive zone is kept 0.05 kilometers towards Southern side, 0.012 kilometers towards South-Western side and 0.012 kilometers on Western side of the Gulmarg wildlife sanctuary because the area is a well-known tourist spot with large tourist footfalls all around the year and there is no scope of eco-sensitive zone extent possible on these sides," reads the notification.
According to the authorities, there is no village/township which falls within the proposed eco-sensitive zone of Gulmarg wildlife sanctuary.
In July 2022, the Division Bench of Chief Justice Pankaj Mithal and Justice Javed Iqbal Wani directed the framing of policy in respect of hotels and hutments and other structures existing in and around Gulmarg bowl, having come up either with or without permission of the authorities and requiring repairs and maintenance on account of harsh weather conditions. The authorities were directed to inform the court about expired and renewed leases of hotels and hutments
The court also directed submitting a comprehensive report indicating therein as to whether any area is clearly earmarked and demarcated for construction of hotels, hutments and structures and the manner and method in which the unbuilt areas have to be dealt with. This included the areas beyond the notified Master Plan and what should be the mechanism in place to deal with the issues of maintenance of roads, pony tracks, horse riding, tracking, children parks etc. and how a proper balance between development, growth and environment would be ensured in Gulmarg.
The court also sought information with regard to the status and position of the site of dumping of solid waste and how the it is being managed, and also directed for formulation of a vision document based on the considerations like environment, forest lands, average number of tourists visiting Gulmarg, existing hotels with bed capacities, sanitation, installation of bio digesters etc.
It is pertinent to mention that in the absence of any Master Plan for Gulmarg and its surroundings, its ecological fragile ecosystem had suffered unstructured development, encroachment and conversion of green cover into impervious surfaces.
The addition of hotels and hutments in Gulmarg has led to an environmental degradation due to cutting of pine  trees, age old deodars, kail trees, destroying biodiversity such as flowers, shrubs, flora and fauna or by creating huge garbage heaps, constructions of numerous septic tanks and soak pits and by spreading of huge concrete cover along with unnecessary tar macadam road network which has changed the very character of Gulmarg.
The rapid and unplanned exploitation and utilization of these resources has disturbed the ecosystem. Various tourism-related factors can be identified to have impact on these resources, among which the number of tourists would be the most important one. Gulmarg is receiving tourists every year more than its carrying capacity.
In 2014, Government of Jammu and Kashmir drafted a Master Plan–2032 for Gulmarg. The plan includes development of a solid-waste treatment plant on 20 acres of land close to Gulmarg. To give a perceptible boost to tourism, Phase 1 of Gulmarg Master Plan 2032 was approved by the State Administrative Council (SAC) vide decision No. 140/20/2018, dated 22.11.2018. It has detailed "major threats in view of the increased tourist influx."
Battling encroachment, haphazard construction and deforestation, Gulmarg will be developed into an economically, socially and environmentally sustainable tourist destination, the Gulmarg Master Plan-2032, approved by the J&K Government, has envisaged.
The plan proposes to "maximise the contribution of Gulmarg and its surroundings to the state's economy, while preserving its rich natural and cultural heritage. At the same time, it proposes to provide the best hospitality, excellent value for money and memorable experiences to every visitor and develop Gulmarg as one of the preferred all-weather international tourist destinations." The master plan suggests working on concepts like illuminations, winter carnival, snow activities, skiing, cuisine, music etc, besides quality services in different segments of the tourist interface.
The main features of the plan include the development of the Tangmarg area near Gulmarg as a satellite-tourist township with flexible set of development control regulations to attract developers for high-end tourism infrastructure. This concept is aimed at reducing further the footprint of development in Gulmarg which has limited carrying capacity.
Significant part of the Gulmarg Development Authority, especially Gulmarg, Khillanmarg, Botapathri and nearby areas included in the territorial jurisdiction of Gulmarg Wildlife Sanctuary and biosphere reserve will not be used for any high built-up infrastructure development.
Considering the tourist influx and its impact, it becomes the responsibility of the travel agencies and local guides to identify over-tourism as a potential danger to both people and the environment, putting a halt to destination marketing and prioritizing destination management. On the other hand, government and tourism board need to realize that there's such a thing as a maximum number of tourists a place can bear and, thereafter, use the appropriate metrics and data to set smart restrictions.
This, of course, is a tricky matter for the valley as its economy depends to a considerable extent on the tourism industry, with almost no other industry available, conflict and the pandemic having further hindered growth in all sectors.
Tourism Carrying Capacity
The concept of 'tourism carrying capacity' is important in the planning of sustainable tourism planning development. In 1994, the World Tourism Organization (WTO) proposed a definition of tourism carrying capacity as "the maximum number of people that may visit a tourist destination at the same time, without causing destruction of the physical, economic, socio-cultural environment and an unacceptable decrease in the quality of visitors' satisfaction." Within this broad definition, four categories are recognized: physical, ecological, economic and social carrying capacities.
Physical carrying capacity is the maximum number of tourists that an area is actually able to support. In the case of an individual tourist attraction ,it is the maximum number that can fit on the site at any given time and still allow people to be able to move.
Ecological carrying capacity is the number of tourists who can undertake activities at a tourism site without causing degradation above the allowable limit of natural environment. In order to calculate the ecological carrying capacity, safety limits of ecosystems are often used through indicators of natural environment, biological diversity, and environmental pollution.
Social carrying capacity has two aspects:
Acceptance level of local community which is reflected by the maximum number of tourists which does not make local residents unpleasant.
Acceptance level of tourists which is expressed by their satisfaction to tourism sites and the number of returnees.
Economic carrying capacity is the acceptable level of tourism activities without doing any harm to key local economic activities. It means that tourism activities must not make conflict to other economic sectors and decrease in the income of local people.
Some research findings showed that effective real carrying capacity of Gulmarg is 948 visits per day. However, so far the current tourist flow is concerned, Gulmarg receives visitors more than its carrying capacity in peak tourism season. In 2021, according to the officials, in just three months, around 2,000 to 3,000 people took the ropeway every day.
It is extremely important to assess the carrying capacity on periodical basis to regulate the flow of tourists. However, control methods based on carrying capacity too has its drawbacks. On the practical level, it is difficult to calculate a maximum number of visitors because this is also dependent on other factors, like the way in which the tourists behave. A group of trekkers moving through a landscape will have a different impact compared to a similar sized group of school children. In the case of natural heritage like national parks, visitor impacts change with seasons. UNESCO (the organization responsible for administrating the World Heritage List) has expressed a concern that the use of carrying capacity can give the impression that a site is better protected than it actually is. It points out that, although, the whole site may be below carrying capacity, part of the site may still be crowded.
Limits of Acceptable Change (LAC) was the first of the post-carrying-capacity visitor management frameworks developed to respond to the practical and conceptual failures of carrying capacity. The framework was developed by The U.S. Forest Service in the 1980s. It is based on the idea that, rather than there being a threshold of visitor numbers, any tourist activity is having an impact and therefore management should be based on constant monitoring of the site as well as the objectives established for it. It is possible that within the limit of acceptable change framework, a visitor limit can be established but such limits are only one tool available. The framework is frequently summarised in to a nine step process: 1. Identify area concerns and issues.
Define and describe opportunity classes (based on the concept of Recreation Opportunity Spectrum- ROS).
Select indicators of resource and social conditions.
Inventory existing resource and social conditions.
Specify standards for resource and social indicators for each opportunity class.
Identify alternative opportunity class allocations.
Identify management actions for each alternative.
Evaluate and select preferred alternatives.
Implement actions and monitor conditions
The effort in promoting sustainable tourism covers the complete tourism experience, including concern for economic, social and environmental issues as well as attention to improving tourists' experiences and addressing the needs of host communities. Sustainable tourism should embrace concerns for environmental protection, social equity, and the quality of life, cultural diversity and a dynamic, viable economy delivering jobs and prosperity for all. The United Nations World Tourism Organization emphasized these practices by promoting sustainable tourism as part of the Sustainable Development Goals (SDGs).
Responsible tourism, which refers to the behaviours and practices that can lead to sustainable tourism, becomes essential. According to the Center for Responsible Tourism, responsible tourism is "tourism that maximizes the benefits to local communities, minimizes negative social or environmental impacts and helps local people conserve fragile cultures and habitats or species."
All stakeholders are responsible for the kind of tourism they develop or engage in. Both service providers and purchasers or consumers are to be held accountable. The government plays a pivotal role in encouraging sustainable tourism whether it is through marketing, information services, education, and advice through public-private collaborations.
While we need to point to the authorities to provide for better tourism infrastructure, safety and regulations, we definitely need to learn to travel responsibly, with responsibility towards the environment and fellow travellers. And, above all, we must learn to respect the culture, traditions and ways of the locals.
Jaspreet Kaur is an architect, urban designer, trustee Span Foundation & Lymewoods and consulting editor of Kashmir Newsline.