Photo essay on Kashmir's premier tailoring shop established a hundred and eighty years ago.
Jaspreet Kaur
K Salama, the corner shop on Polo View Street was a chance discovery, when I stopped to look around finding the entire Polo View Road dug up. As I waked in, I met Amjid Gulzar Bhat (K Salama's great grandson), who showed me the usual Kashmiri fabrics and embroidery. We soon got talking and I got to know that Amjid left his corporate job in 2010 to join the family business. Along with learning the nuances of tailoring from his father, he looks after the marketing.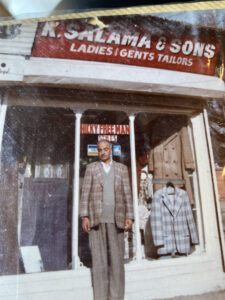 (Ghulam Nabi, Amjid's grandfather, photographed outside K Salama in the 70s. Courtesy : Amjid Gulzar)  
There was an elderly man moving around the shop – very busy at his own pace. He came over and offered tea, which came with a plate full of biscuits and a delicious cake from the local bakery around the corner. Knowing that I liked the cake, it's there every time I visit the shop. He was introduced as Gulzar Bhat, Amjid's father.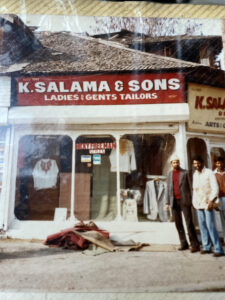 (Gulzar Bhat, in red pullover and jacket, having a few leisurely moments outside his shop in the 70s. Pic: Shah  Jehangir)
Once the introductions were over, he very proudly showed his bespoke creations and all the testaments from his clients across the world, along with folders of business cards of his prestigious clients. Some handwritten, others typed out, some faded, framed letters praising the dressmaking skills of K Salama are a living testament to the Srinagar-based tailoring shop's legacy. These include a note by Booker Prize-winning author Arundhati Roy: "I am writing to you while I am dressed in the elegant pheran you tailored for me at such lightning speed. I can't believe you remembered the fabric you used to make my coat seven years ago."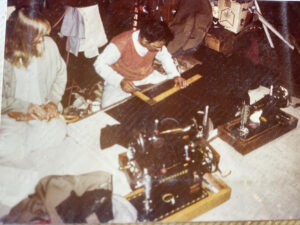 (Rasool, their tailor, who worked since his childhood, first with Ghulam Nabi and then with Gulzar Bhat till       the age of 85, when he was still stitching coats. Pic: Shah Jehangir)
Since 1842, K Salama, founded by Khawja Salama, has offered tailoring services to locals and has been very popular with the visitors in the valley. Amjid, who runs the business, estimates that his father has thousands of such notes filed away from patrons across the globe – journalists, diplomats, noted military men and others.
Before India gained independence, K Salama was a favourite among British visitors whose holiday itineraries in the valley often included a visit to the shop. Gulzar Bhat recalls that the street was once similar to Savile Row, with several rows of tailoring shops, now replaced with craft stores.
(Amjid Bhat and Gulzar Bhat in their shop which now is known for its varied designer fabric and embroidery.   Pic: Shah Jehangir)
He started accompanying his father, Ghulam Nabi, from the age of 12 and soon learnt the skills. Their workshop, he said, had some very skilled master tailors. Even today he works with his experienced master tailors, Ghulam Hassan Bhat (86) and Abdul Rashid Kumar (60). The expertise is a result of perfection in fitting and tailoring. Gulzar Bhat supervises each piece tailored in his workshop. Tailoring remains K Salama's forte and heritage.
          (Gulzar Baht showing his album of appreciation letters. Pic: Shah Jehangir) 
Gulzar Bhat tolerates no compromises and can be tough in demanding the best from his tailors. However, as Amjid says, he keeps them happy and pays them well, almost two to three times more than others do.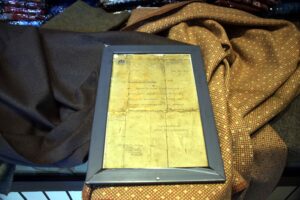 ( Framed letter of appreciation of July 7th 1956.Pic: Shah Jehangir)                               
The upper level is a storehouse of some amazing fabrics, some very rare like the Kashmiri tweed, the impeccable weave of which, Gulzar Bhat demonstrates by piercing it with a pen. It restores to its original form as soon as the pen is removed. He clearly loves his fabric collection. There is one particular tweed that he's quite nostalgic about – a light brown with tiny white crosses, designed by his father, to mark the thousands of migratory birds that visit the valley every year.
    ( Framed letters of appreciation on display in the shop. Pic: Shah Jehangir)      
1.Salama's tailoring expertise is varied, with a focus on Western menswear and womenswear as well as uniforms. Traditional English Bedford cord trousers, Prince of Wales check double-breasted suits, fishing hats and a 'Kashmir waistcoat' are regular mentions in the letters of appreciation. They have now added tailoring of ethnic wear.
(This photograph that hangs in the shop is of one of their oldest tailors, Sultan, who was a master in                        hand-stitching. He worked with them till the age of 95.  Courtesy : Amjid Gulzar)   
The bestseller, for which K Salama is now popular, is the pheran made from various fabrics like pashmina, cashmere, wool, cotton and even the 60-year-old vintage Kashmiri tweed.
(Gulzar Baht demonstrating the strong weave of the Kashmiri Tweed.  Courtesy : Amjid Gulzar)  
I was shown several immaculately tailored waistcoats of Kashmiri Tweed, sadly now a rarity. I was lucky to find a beautiful blue tweed fabric and asked Gulzar Bhat to make me a waistcoat. It has been tailored to perfection. I shall be winter -ready with a tweed coat and a wrap made from the vintage bird-design tweed. But I also leave with a heavy heart listening to Gulzar Bhat reminiscing the times of tailored perfection, attention to detail, and his love for his fabric, that which is valued by only a few now.
Gulzar Baht showing the fabric designed by his father to mark the lakhs of migratory birds of the Valley.                 Pic: Shah Jehangir)  
(Gulzar Baht supervising his master tailors – Ghulam Hassan Bhat (86) and Abdul Rashid Kumar (60). Pic: Shah Jehangir)  
(Gulzar Bhat in his workshop with his master tailors. :  Pic: Shah Jehangir)                                     
Jaspreet Kaur is a New Delhi–based architect and urban designer.